My Life With Callie Nolan Chapter 1
October 13, 2010
Can I remember a time when I wasn't with Callie? Well it was probably back in the eighth grade. Yeah. I remember it well. It was an average Wendsday afternoon at Dogwood Jr. High. A couple of my buddies and I had skipped out on Agriculture class. We were wondering the halls causing trouble. My good friend, Brad Miller was yelling at any half way attractive girl that passed by.

My other buddy, Donnie Sanchez was with us too that day. He joined in on the girl watching even though he had been dating Mandy Powell for about a year or so. But let's just say Donnie wasn't the most faithful boyfriend in the world, and poor little Mandy was pretty much oblivious to everything.

I had just dumped Karlee Hanson. Popular, cute, athletic, smart. The ideal high school girl, yet she was the bossiest, most overbearing girl I'd ever dated. And I'll admit I'd dated my fair share of chicks. Mostly all of the halfway decent looking ones in my grade, a couple seventh graders, and a few freshman for a short time. It never occurred to me that I'd ever meet a girl I would really, truly love.

Never imagined I'd ever look at a women and realize that she meant everything to me. That an inevitable love for her would swell in my heart so big I'd feel I might burst. That is… Until I set my eyes on Callie Nolan. She was standing at the end locker that had been vacant since the beginning of the year. Brad suppressed a long, hushed whistle "Who is that?" he mused.

I didn't answer him. I was too busy staring at the girl at the end of the hall. She was about five foot four. She was slim but shapely. Her skin was pale as the first December snow. Her hair was the color of a Hershey's chocolate bar. It draped over her shoulders and cascaded down her back. The ends were twisted into thick curls.

Let's see… She was wearing… Ah, a green tank top. She had a matching jacket on over it. Her hat sat high on her head with two braided strings hanging down by her pale cheeks. The skirt she was wearing was plaid, and ended just above her knees. There was a big pair of red sunglasses covering her eyes. White socks stretched up to her knees and her feet were decked out in a pair of black Converse All Star high-tops.

She was putting things into her locker when Brad slicked back his hair and started strolling down the hall towards her. "Hey!" I said in a hushed voice, "What are you doing, man?" Brad grinned "What's it look like? I'm going to ask her out." I sighed and followed close behind him as he headed towards the mysterious girl. Donnie was beside me. When we got close, the girl was focused intently on a piece of paper.

"Well hello there." Brad said smiling, leaned up against the locker. I stood next to him with my hands in my pockets. The girl glanced up from the paper and smiled sweetly. "Oh hi there!" She said cheerfully, tipping the sunglasses down. Her eyes shone bright and green. I felt like something inside me had melted. Her smile was beautiful. Suddenly I felt as if all my past girlfriends were trolls compared to this girl's smile alone. This made me feel embarrassed I'd even considered dating them. Then she glanced up at me and smiled. I could feel my cheeks heat up and redden.

"I'm new here," she went on, "My name is Callie Nolan." Brad ran his fingers through his brown hair, attempting to act smooth. "I'm Brad. And this is Donnie, and Alex." I smiled and waved a hand. Callie giggled and my toes tingled. "Nice to meet you guys." She glanced back down at the paper and asked, "Do any of you know where the Agriculture room is?" Donnie jumped in, "Yeah, yeah. Uh we'll take you there. That's what class we're in right now. Uh huh."

I almost busted out laughing. Donnie turned red, realizing he'd embarrassed himself by stumbling over his words like a love struck fool. Callie smiled again and blushed. She was so cute. I could have just scooped her up and hugged her right then and there. We led her back to the Agriculture room.

When Mr. Pangburn asked us where we'd been we told him we had been asked to escort the new girl to her classroom. Pangburn simply rolled his eyes and introduced himself to Callie. When he went back into the garage, Brad continued with his schmoosing and attempts to impress the new girl. He even showed off his biceps. Donnie had stalked away to avoid any further embarrassment and I simply stood there with Brad, listening to him brag on himself.

Later in science class I was ecstatic to see Callie in the same room with me. I was even more happy when we were paired up to work on a project together. We had to make a 3D model of an atom. I got the materials and we found a spot on the floor. "So," she said, plopping down next to me, "We meet again, Alex." I could feel my cheeks heating up again. She had remembered my name.

"Yup." Was all I could say. As time passed it became easier and easier to talk to her. She was sweet, cute, and charming, but as I got to know her better I began realizing she was different from the other girls I'd dated. She had spunk and a weird sense of humor. But I liked her even more because of this.

And that is how I met Callie Nolan…. The girl of my dreams.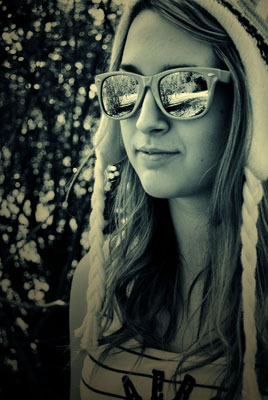 © Gabrielle A., Pensacola, FL