Lovers' End
September 23, 2010
I wait for him. Next to the whispering pine tree's I watch. He comes around the curve in the bend just beyond where I stand. I watch as he slowly strides with his long lean legs and little cane to the place on the cliff that over looks the lake. He sits in the ornately carved bench which I later named lovers' end.


For love always came to an end here. I watched for many, many years the tragedies that happened here. Be it fights or separation, a sadness had laid its shadow here and it had never been lifted, until the day an old couple came across my path. Laughing and kissing like they were young children again, under a cloudless blue sky. It had been many years since I'd seen my faithful friend the sun and now here he was coming with two lovers as ageless as the sea. It was a beautiful moment of happiness that lasted what seemed like forever.


They came many years after that, every few days. Always when the sun was setting. It was some of the best years of my very long,long life. Then one day they didn't come, then another, and another and years past. Waiting and watching until they finally came back. Then just when I gave up hope I saw him, I waited to see the woman that always followed but she didn't come.


I looked back to the man who, despite his age, always looked young and happy. What I saw wasn't an ageless man with a twinkle in his eye, instead I saw a frail, weak, old man who had dull eyes and seemed to have been alone for quite a long time. Then I realized it had happened, lovers' end had finally reached him and his heart along with it. He was alone, like me, weeping for his loved one always. My heart reached out to the man who had brought the happiness I hadn't experienced since I started weeping for my loved ones. I reached out and grasped him in my long arms, held him under my curtain of hair and said," I too am a weeping willow".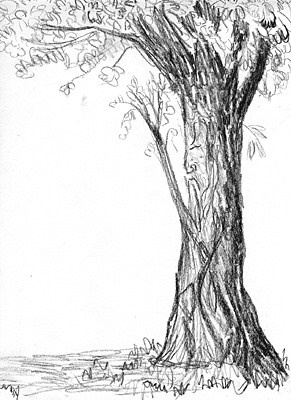 © Anna W., Athens, PA