The Artist
September 6, 2010
The trees part for me as I enter the yard from the street door. They bend and twist in personified bows as their queen steps gingerly over and under their gnarled limbs. Around me the mini forest of my backyard sways with the early morning breeze of young July and the lilacs by my bare feet sting my nostrils with their spicy smells as the tall gate closes behind me. The grass is damp with the dews of night's wet dreams and I can feel my toes squish in the moisture as I slide across the lawn.
I catch a glimpse of the cat clock on the wall as I slip in through the sliding doors of our quiet home. Its oval eyes move sharply back and forth in disapproval of my early morning homecoming. It's six am. How could I have let the hours slip away so irresponsibly? I bite down hard on my lip as I tip-toe across the room, trying to avoid the squeaky parts of the linoleum kitchen floor. Turning the corner I realize my futile attempt at sneaking in unseen and unheard.
Tallulah and Abdul are both sitting at the small breakfast table in the den. They are sharing a newspaper. They pass sections back and forth between them. Arts, sports, another cup of tea, politics, jam on toast. This is how the morning hours are spent between them. Up with the sun.
Abdul looks up from sports, "Where have you been?" He isn't angry and speaks calmly but still, I stand unsure of the proper response.

I open my eyes wide and look into his, so dark, like mine. "I was with Tarquin. We were with Katie and Max and we lost track of time. We might have fallen asleep, I'm not sure."
"You saunter in whenever you feel like it. Like this family and your future mean nothing to you. And you.."
Okay, he's angry.
"And you lie to us. We can see your eyes, huge and dark and lies."
Tallulah is perked up now, eyeing the scene with a thoughtful look. I know what she wants to say. It's always at the tip of her tongue but never quite finds the courage to emerge. She would say that the family business would need someone utterly responsible and reliable to take over in a couple years time when I would graduate and herself and Abdul would finally drive off in their ridiculously huge Winnebago and live the life they really want without their eighteen year burden, the cause of much relention and sacrifice and selflessness, money, time, settling. The burden they named Laila. What wanderers.
Stealing the silence of the kitchen I turn on my heels and dash upstairs to my room.
I flip down the arm of my record player. Billie Holiday springs to life. She lulls my mood as I nap for a few hours and then rise to pull my paints and easel from the closet. I switch records. Choosing a collection of French ballads from the sixties, I turn the music up louder as I delicately apply yellows, blues, reds, and all the colors in between to my creation. I swipe my brush up and down the white canvas, curving lines and dotting ends. I mix and splash. I move my brush like gossamer over the easy yellows and pinks of the sky. I stab angry strokes of blue and black at the rough and tumble waters below. When the song is over and I know I'm finished, I step back. I regard the portrait of my home with sky and land and sea and buildings jutting up into the pinks and yellows and shadows of those same monsters lingering over the harsh blacks and blues. I recall the first time I laid eyes on this island.
I was four years old when we first moved to the river. My young and in-love parents had decided it was time to do suburban life and scraped their savings to buy a nice little home in a nice little neighborhood with a beautiful backyard and beautiful neighbors. Only for a little while of course and at least they were close to the capital island of the world, right? The city enchanted my mind beyond belief. "They shouldn't poke into the sky like that," I said upon seeing the Manhattan skyline, "or the sky will break and fall."
I stack the landscape against the overflowing wall across from my bed. My knees are knobs of rainbow where I wiped my dripping brush a thousand times but I don't feel like taking a bath. So I slip a long dress on that ties around my neck and I give my hair a quick brush, taking out the pencil that held my dark strands in place as I worked. It's a Monday.



Later in the evening, Tallulah and Abdul are gone to see a concert in central park. Tarquin and I are reclining in the garden imagining the stars.

"The big dipper would be here," he whispers in his British brogue, one hand outstretched towards the light polluted sky and the other on my lap.

Tarquin is my boy next door, ornament to my messy life. He moved in a little over a year ago coming all the way from another little island called England. His dark features and solid body produced by years of rugby, football and whatever else it is they run around doing over there caught my attention right away. His never-ending music collection and insane cultural knowledge keep me perpetually entertained.

He refers back to his map and shifts his pointed finger to the right, "And here would be Orion's belt." He smiles at me and I can't help but laugh at how proud he looks of his astronomical discovery. "Laila," he sings into my ear. His hand moves north. "Let's go inside, aye?"


I squint at the morning coming in through the opened window. Tarquin is gone, having slipped out about an hour ago, before Tallulah got up to make her herbal tea. I stretch out. My white sheets fall to the side as I pull my arms over my head and force my muscles back into place. Okay, I'm up.

I'm in an artsy mood so I pull out my easel and paints before I even bother getting dressed. I really can't do much else besides art. I can't play sports to save my life. I can't dance, well, I can shake my hips around quite well but what good does that do you, when you're grown up and stuff? I can't really cook, not that I've tried much but if it doesn't interest me I don't think I'd excel, right? So I'm basically just an artist. I've practiced many forms in my 16 years on this planet.

I learned the art of seduction from black and white movies when I was 14. I heId Joseph Riley, garage band guitarist extraordinaire, up against the wall by his musical, tanned shoulders and kissed his damp skin until he begged for mercy. I didn't stop with Joe either. I was constantly after rockstar wannabes and the dirty skateboarders of soho. They were really too old for me but I didn't care. I would just flip my hair around, short shorts, laugh big, touch leg, blink eyes."I looove your band." Easy. As pie. I got my heart smashed and shattered a billion times. I fell in love daily.


On Sweltering Friday, in the pre-night hours, Katie comes over to get ready for the night. We drown ourselves in sparkly body mist. Katie squeezes into the tightest jeans on the planet and I spray my hair with a salty homemade mix of "beach water". I slip into a blue sequined tube dress and decorate myself with tons and tons of costume jewelry. After my smoky eyes are finished and Katie shakes off some excess body glitter in a wiggle that makes us both giggle, we're out the door.
We take two buses, a ferry and a cab to get to the city and another cab to get to the club where the newest grunge band of the week is playing. (We try to stay on top of these things.) On the sidewalk there are dozens of indie kids pushing past us to get to the door or to wait in line to pay their cover charge. Tarquin and Max are supposed to be here by now and I check my watch with a grunt. "Tarquin and Max are supposed to be here by now," I think out loud while craning my neck above the crowd to see down the busy sidewalk.
"I can't believe them," she sighs, looking around for our MIA boyfriends. "They probably got sidetracked by something shiny."
After another few minutes we resolve that if we stand outside any longer we'll have to stand in the back behind someone tall and the cover charge won't even be worth it so we get in line and within another ten minutes we are standing inside the roaring dimly lit pub room. Girls in leather leggings and feathered earrings push past us with triangle shaped drinks in their hands. Virgin Cosmos.
Before long the house lights turn off completely and the entire room is flooded with spots of red and yellow and sparkly confetti drops down on us. The band emerges from the shadows of the drapes around the stage. The lead guy thrusts forward to the mic stand and grabs it like a long lost love. He slurps his words of introduction to his audience and signals to the drummer to count them off. One, two, three, four. BANG, the bass blasts into my chest and I scream in delight. Katie and I jump up and down in our spot near the stage and nod our heads along with the beat.
The song picks up pace and we flip our hair back and forth while twisting our hips to the sound of the singer's husky melody. A man with a large toothy smile sticks some drinks in our hands and we squeal our thanks to him. Every now and then a kind pervy older person will buy us some beverages and we usually don't see a problem with it when the guys are with us, sitting in a corner and acting all cool. Tonight we're alone but we've been alone before and we're having such a good time that we take them, even though the nerd is wearing a pink and orange Hawaiian t-shirt, and sip them eagerly.
An hour later the band is on their second set and I'm on my 4th drink. Katie is slouched in a booth, cell phone in hand trying to get a hold of Max. The show is almost over and people are already heading towards the exit to beat the cab dash.
I peel myself from the foot of the stage and make my way over to Katie. I stagger a little as my eyes seem to be failing me a bit. I almost trip but I catch myself on someone's shoulder and I can see her in the booth on her cell phone. Her lips are moving into the receiving end and she's laughing. No. She's crying. No. That's me. I'm crying. I'm on the floor and I'm crying and my legs feel completely numb and I can't see a thing now. Everything is blurry. Someone is helping my up and hooks their arm under mine as we head towards the door.
"Oh, Tarquin," I breathe, "The music is so so loud, let's go home."
He doesn't answer me and I ruffle his scruffy hair and.. That's odd. His head is down to a buzz cut. Oh, Dear, Tarky shaved his head! How could he do this? A tear rolls down my cheek as we enter the cab and I begin to mourn my boyfriend's full head of floppy red hair. 'What will he wrap is purple paisley headband around now?' I wonder in dismay.
A large hand appears on my shoulder and for the first time since in the club, I turn to get a good look at the man beside me. It's not Tarquin. His scruffy face is smiling a toothy grin at my neck and won't look at my eyes and I want to tell him to look at my eyes but my lips are frozen shut, numbed by the flow of drinks. This is Toothy Grin from the bar, the buyer of our booze. Panic rises in my throat and I look desperately towards the cab driver.
"I want to go home," I try but my words all blend together and I can barely understand them myself. He grunts and tells Toothy Grin to make sure I don't barf on his seats.
The cab screeches to a halt and I'm swung from the door to another door to another door to a bed. Tears are flowing now and I shake my head back and forth. My hair is sticking to my damp face and I cry right into the strands but I can't lift my arms to push it away. I can't do anything. I have no body. I am just my thoughts and my half closed eyes that don't seem to see anything at all.
They don't seem to see Toothy Grin as he takes off his grimy shoes and socks. He is just a blur of grey pants, blue beneath them with foggy patches of pink and orange above. My mind drifts. Consciousness slips in and out in sync with his rough movements. But contrary to the harshness of my situation, my dream is smooth.
Miles away, Kate and Tarquin and Max and Tallulah and Abdul, and ten thousand police are calling my name. But I've already forgotten it. Perhaps I was Hazel, with big eyes and I played jump rope. Maybe I was Anne and I loved to read big books. I don't remember.
I am spreading around the colors of my blurred vision with paint-stained hands. The pinks and blues blend together as I mix them into a perfect sun-set sky. I dip my fingers into the grey and orange paint and swipe them into vertical lines that jut up, scraping the atmosphere of my creation. Other colors have appeared too. The buildings of my city come to life with all the million shades of purple, brown and green. Aquamarine birds hover above the streets and bright yellow taxis dot the charcoal concrete. Hands dripping with rainbow, I swirl my ten brushes around the entire painting, blending all the shapes together and making them into one giant heap of nothingness.
I gaze in contempt at the scene I have just created and destroyed in mere seconds. Or minutes. Hours?
I search the empty space for Tarquin, but he isn't there.
I continue to stare at it as the feeling returns to my body that has been gone so long I almost forget that it was down there. Still, as my toes begin to curl and the pain starts to hit me, I stare at the city.
As the knife comes down into my stomach, I stare at the city and as I stare at the city, the knife slices my throat. Then the knife is turned away from my body and is jabbed, with incredible force, into my colorful canvas, ripping the pink and the orange right down the center and letting all of the red drip out. And I just lay there; eyes still open not unlike the man lying lifeless feet away. My eyes don't close either, they just sort of settle. This makes me sad, that they stay open, because there is nothing to stare at anymore.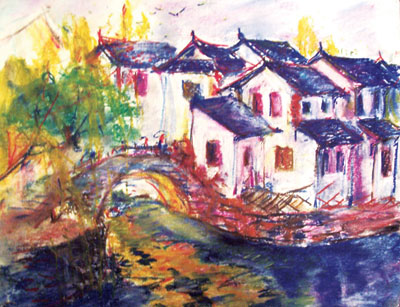 © Xiao H., Naperville, IL