See Through Love: Chapter 2, First Impressions
August 16, 2010
"I have no idea why I can't sleep, go to sleep, GO TO SLEEP" she whispered to herself. But no matter how much she tried her brain was just defiant. Since she could hardly shut her eyes she decided to work on her art, that scholarship just won't do the work for itself. She pushed her aching limbs out of bed and sat on her easel.

"Okay, first I can't sleep and now I can't paint!" but just as she was about to finish her sentence the loud creak from before happened again. She stopped cold, her palms sweating. "There's no such thing as ghosts, there's NO such things as ghosts" she repeated, even when her body thought otherwise. She got her oil paints out and began to mix colours, she thought about making the younger boy from the painting in the sitting room through her own eyes. She used some charcoal to do the faint outline of his face, the cheekbones made more acute. She took the blonde-brown paint and swirled the brush around and made loose curls as opposed to the neatness. The pale-pink white chalks dusted the hollow cheek bones and pale red outlined his thin lips. After her work was complete she stood back and immediately felt afraid. Afraid of what she had made, the boy looked ghostly like it was not a person, like Lesley had intended.

"What have I done? It's not supposed to be scary!" shouted Lesley to herself. She was a perfectionist and she tore down the painting and threw it into the attic, she didn't want to see that boy again. "What time is it?" she pondered as she glanced at her alarm clock "4 am?!?!?"
She slumped downstairs into the kitchen and decided she better make some breakfast and rush off to college. The coffee machine her mother gave her was already timed she realised and had a hot cup ready for her. The bar fridge that she installed the day before was packed with colourful peppers, blood-red tomato, green salad and tons of bread and eggs with milk.

"Omelette's it is then." She said and began to dig into the cabinets to find a pan. The fire was burning in the stove as the egg sizzled atop. She heard that crack again,

"Humph, I doubt that's anything I heard that a thousand times and nothing happened" the omelette finally cooked and as she turned around she saw a pale figure of a human.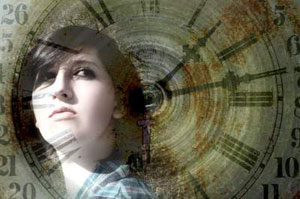 © Ryan K.