Friends or More?
August 23, 2010
I was preparing myself not only for my first high school semi-formal but for a night full of drama. I looked in the tall glassy mirror on the sky blue wall of my room. I felt amazing in my snowy white dress and heels that made me feel like Cinderella. I carefully fixed my hair and hair sprayed the curls into place. I quickly looked at the clock that read 6:30. All my friends and their dates were coming in fifteen minutes for pictures. As I grabbed my silver wristlet to go downstairs the doorbell rang.
"Audrey, Laura is here!" my mom shouted from downstairs. I turned off the light and went down the stairs. The stairs curved around the large foyer in our house. They've always been my favorite part of the house since my family and I moved here to California from Australia three years ago. The transition wasn't hard for me at all. People actually liked talking to me because of my accent and soon people liked me for me. My nickname has always been 'Audrey the Aussie'.
"You look so pretty!!!!" Laura gasped as I walked down the long staircase.
"No, I swear you do! I love, love, love your dress!" Laura's dress was a royal blue and her silver shoes sparkled off the white tiles of the floor. "Your hair looks simply amazing." Her hair had silky waves like she'd just walked off the beach. I would die to have Laura's hair. It was the perfect medium length of a dark chocolate brown.
"Thanks but honestly we'll have to let the guys be the judge of that." Laura laughed and I started to giggle too.
"Speaking of guys…" I saw out the window Justin, Brandon, and Zach get out of Zach's mom's black BMW. Laura and I met all three of these guys together earlier in the year at one of their school dances and now we all hung out every weekend. They all went to the private all guys school, St. Augustine. Brandon was my date and Zach was Laura's date. Justin was Holly's date, but she hadn't arrived yet. As far as Justin and I went, I like him, or at least I use to. Justin was originally who I was going to ask to semi but Holly knew Justin and he was probably the only guy she knew, so I let her have her way. Holly was the first person my age I met after coming here from Australia. We went to the same elementary school for seventh and eighth grade and got accepted to Mercy High school, a private all girls school, and now we have four years ahead of us. Zach and I have become like brother and sister since we met. I recently found out from him that Brandon likes me, a lot. I've been through ups and downs of deciding whether I like him or not and I've decided that if he was to ask me out, like the rumors say, then I'll say yes. Zach was someone I could tell anything to and although he jokes around and makes fun of me for stuff sometimes, he's still one of my best guy friends.
Soon everyone was at my house and the flashes of cameras kept going off from every direction. After that little photo shoot was over it was about 7:15 so we headed over to the dance that started at 7:30. We all wanted to go in the same car so we were able to get a limo from Brandon's aunt's limo company. The limo was really pretty with lights on the inside that changed colors from blue to green and pink and purple. Of course Brandon sat next to me and all I could think about was if the dance would be awkward tonight. I'd only found out from Zach a few days ago that Brandon really liked me. Sometimes knowing less is better though because now all I was anticipating was for things to be awkward between us.
"This is going to be so much fun." Laura smiled.
"Yea, hopefully better than our last dance," I said. Our school didn't exactly have a history of the best dances in the world. Very few people showed up to the last dance in October and the DJ apparently didn't listen to new songs so the music was really bad.
The car slowed down and there was lots of lights outside from all the other cars dropping girls and their dates off. Everyone looked at us as we got out of the car. Let's just say not everyone showed up in a limo. Justin stepped out first and held the door open for Holly who stepped out next. I have to admit Holly's dress is gorgeous. It's a plum dress from Neiman and Marcus and it hugged her body perfectly. Her gold clutch and shoes accented it perfectly. It was pretty funny seeing Justin in a purple tie, but at least he found his new favorite color! I got out of the limo last and Brandon shut the door for me. He held my arm as we walked into the lobby of the gym. I felt like one of the couples you would see on the red carpet all dressed up with their date.
"O wow," I said, stunned by the decorations.
"Not bad," Laura said shaking her head. This was impressive compared to some of the decorations our school had done in the past. There was white and silver glimmering snowflakes hanging from the ceiling and fake snow dust on the windowed trophy case. We slowly made are way into the gym. It was almost not recognizable.
"Your school really goes all out don't they?" Justin laughed.
"I was on the decoration committee," Holly said as she raised her hand as if praising herself.
"OMG Olivia!?!?" I said as I put my arms out to hug her. "You look so pretty! I didn't even recognize you wearing heels and this gorgeous dress!" Olivia's dress was the prettiest shade of forest green with fake studed diamonds on the neck line. The dress fell perfectly right above her knees and her long blond hair was pinned half up.
"Thanks Audrey you look amazing too! So who are your friends that I don't know?"
"Ohh my bad!" I introduced Brandon, Zach, and Justin to Olivia. When I said Justin there was a sparkle in Olivia's eyes that said they would meet again during the night.
"So you guys want to find our table?" I said ready to get out of the staredown Justin and Olivia seemed to be having.
"Ohh you're all at the same table as me! Right over here come on I'll show you," Olivia said excitedly. We followed Olivia as she swerved through the crowd of people. Almost everyone except those not successful in getting dates was here. This included the sophomores, juniors, and seniors. It was cool though because no one at are school was intimidating. It wasn't like those teen movies where the seniors and upper classmen ruled over the little freshman. Not at all was this the case; everyone talked to each other and knew each other.
We all sat there at our table next to our dates. I saw the way Brandon looked at me. It didn't bother me though with his brown eyes looking at me like he was planning something. He was my friend…just my friend. After Zach had told me that Brandon liked me more than ever, my view of him changed. One day I liked him, the next day I was in love with him, and now…I don't even know. I'm pretty sure if the rumors come true and he asks me out that I would say yes, I could never break his heart.
"Audrey you wanna dance?" Brandon looked down at me with his hand out. I had dazed off into such serious thought that I hadn't realized Kelly Clarkson's 'A Moment Like This' was playing and the DJ and teachers were encouraging everyone to dance together with their dates. Of course Justin had disappeared. I looked out onto the dance floor and saw that Olivia hadn't been shy and gotten Justin to dance with her.
"Yea, sure." I took his hand as we made our way to the dance floor. I wasn't even paying that much attention to Brandon. I was too busy looking at everyone around us and my friends. Then it hit me. They were my 'friends'. Most of them I've met only this year and yet we all got along so well like brothers and sisters.
"So Audrey since you bought me as your date to semi and you'll be going to mine as my date…" Brandon was looking directly at me like he had this question and I was pretty sure what was going to happen. "…do you think you'd go out with me?" If it wasn't for the fact that Brandon and I were slow dancing I'm positive I would be out cold on the floor right now. How was I supposed to answer him?!?! I'd had it all planned out and now nothing was coming out of my mouth. I forced a smile; at least it gave me an extra second to think.
"Brandon," I said in a clam voice giving him a hint as to what I might say. "We hang out all the time and we're like brother and sister… right now I can't date you. I think things should just stay the way they are because you're a great friend and I don't want anything to change that." I smiled as I said this almost fully confident. I actually felt good about what I said too. Everyone told me to go out with him but they don't know him like I do, he's my friend and for now only my friend.
"You know what, I get you. You're right," Brandon said this almost without hesitation.
"I'm right?" I asked confused by his coolness to my answer.
"Yea, you're my friend and friends are what we were meant to be." I couldn't believe it, how calm and understanding he was.
"You're the best," I hugged Brandon and then the song was over. We headed back to the table and saw Olivia and Justin sitting there laughing. I could be wrong but this looked like major flirting to me.
"Ok well Sunday then we'll definitely hang out," Olivia giggled to Justin.
"Cool," Justin said.
I looked at Olivia with a smile and when Justin turned around I whispered to Olivia, "I'm guessing you guys hit it off?"

Olivia smiled and nodded her head. I hugged her full of excitement for both Justin and Olivia. I thought back and realized that I've liked both Justin and Brandon before, but that likeness was only a sign of friendship. It never was something more than that, only maybe for a day in my imagination. I just sat there now and embraced the fun night we'd all been having. I was surrounded by all my friends and honestly I couldn't have asked for a better night.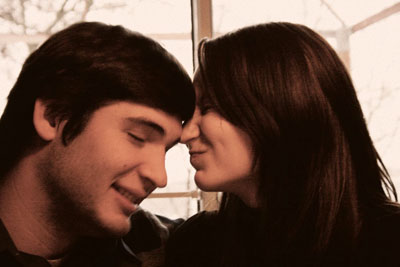 © Hannah L., St. Louis, MO