When I Realized Death
August 9, 2010
I never gave much thought to how or when I would die. It wasn't that I chose not to think about it, it was that I didn't care. I wasn't scared of death. But then everything changed. My mom got cancer the doctors all said "She has two years to live." We all decided to make the most out of the time we had left as a family. We took her to Disneyland, we went on a cruise, we saw Paris, we traveled all over! My dad was going to take my mom,my little sister Sarah, and I to Australia in a week, then my mom couldn't even walk.

Seeing this all happen overnight was even worse than seeing it slowly. We had to rush her to the hospital where they said she'd never be able to move again. months went by. She started to get better. We were a week away from the two year mark and she was going to be coming home! We had a huge elaborate welcome home party for her with everyone we could fit in our house.

Through all this, I hadn't seen my best friend, Ryan. We talked on the phone, but I hadn't seen him. Having all this happen so close to me is what made me start thinking about death. But I realized I was less scared of dying than losing some close to me. I told Ryan this and he has why I was not scared of death. I answered him with,

"I don't know. What is there to be scared of? It's inevitable, why should we be scared? We don't know what we have to look forward to. Maybe it's something a million times better than here on Earth."

"But what if there is such thing as hell?" He questioned. I didn't know how I was supposed to answer that, should I say that hell is where those who are scared go? That he doesn't have to worry about going there because he is good? By this point he realized he made me uncomfortable so he changed the subject.

The day we had the welcome home party, we got a call asking us to come to the hospital immediately. We got there and were escorted to an office by my mother's room. The doctor that we had come to love over these few years told us that she had died overnight. We hadn't even gotten to see her one last time.

The doctor said, "Last night, she wasn't feeling too good and she didn't know how much longer she'd be here, so she wrote you guys a letter. There was one for Sarah and I and one for my dad.

This was our letter: "Dear girls,
I am so sorry to leave you like this. Please do not miss me, I have faith that we will see each other again somehow. Look for me in rainbows and you will know that all is well. I love you both very much and want you to have the best of life. Love, forever and always, mom. XOXO"

We held the funeral the next week. I got to do a reading. I ended it with the quote on her tombstone, reading "Here lies a woman who could brighten any day with only a smile." That was my mom, all she had to do was smile and you are happy all day. The hospital informed us they didn't tough her after she died. When we looked into her coffin, she was smiling. This was reassurance to all of us that we could continue living.

The next Monday, my sister and I went back to school. Ryan was at home sick, so I was alone. I became know as "that girl who's mom died," or "That girl who's mom had cancer." Being whispered about made me see how strong I had to be for myself and my sister. This was the first time I had ever felt like an outsider on the inside. I didn't like it either.

I spent the week doing as much as I could to live normally. Ryan hadn't been able to come to the funeral, so I hadn't seen him in almost a year. Saturday he told me to meet him at the park at noon.

I got there and he had a picnic laid out. As I approached him, he stood up and gave me the one thing I truly needed from him all along, a hug. He held me while I cried, while I ate, while I cried some more, while he took me home. We got to my house and he walked me too my front door and gave me another hug. He looked me straight in the eye and said,
"I love you, Jenna."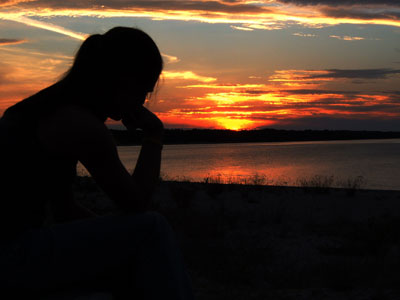 © Hilary L., Rogers City, MI