My Fair-Haired Savior
August 8, 2010
The dictionary defines a savior as "a person who saves, rescues, or delivers." To me, you did just that. The sad part is I don't even know your name, and probably will never see you again.

The first three weeks of July were nothing but joy for me. I was out with my friends all the time, I met a nice boy, and things at home were good. In a flash all of that changed on July 24th. That nice boy decided things weren't as good as I had thought and he had met someone better. Suddenly I was stuck home with no plans. My grandma wasn't doing well again. And we had to get rid of my dog, my baby. So with this came an end to the ecstasy the rest of the month had brought. The only upside was that the following Friday I got my drivers license.

My melancholy mood was hitting the middle of a second week in the running on Aug. 4th. That was my family trip to Wisconsin Dells. Getting stuck in traffic on the way there was even fun. We jammed out with the radio and made faces at my cousins in the car in front of us, and my brother in the car behind. We had a picnic in the Wal-Mart parking lot while eating Subway. It was all just silly.

So we get to the water park and get in. We did the usual, you know, roller coasters, waterslides, and the giant wave pool. Also, since we're teenage girls my cousin and I laid out, in the shade, and sang along with whatever was on the radio the park was playing. (Surprisingly a great selection of music at that.) That's where I saw you.

Somewhere around the song Dirty Little Secret, I think. You and your family had just gotten there even though it was late in the day. I'm assuming you were staying the night while we only made a day trip. You were about 10 ft away from me slightly to my right. The angle of the sun made your blonde hair shine a beautiful shade of gold. I thought I caught you steal a glance my way. Then I thought that I was just being silly and there's no way you actually were. Well you and your family decided to hit the lazy river, which was conveniently still in my line of sight. As you walked past you did look my way and I smiled. You, some perfect stranger, made me so happy with just a look, a happiness that had kinda been missing for a week and a half. It disappeared with the utterance of "I don't think things are going to work" and reappeared with a glance.

So like I said, you went to the lazy river while my cousin and I were chatting. She actually fell asleep right around then. I saw you when you made your way around, and you looked over and gave me a nod. Now I know you don't know this (because you don't know me) but it was that nod that saved me. It lifted me out of my little pity party and reminded me that I'm 16, and I'm pretty. I know that sounds really full of it, I mean I don't always tell myself that I look good, but the fact that some total stranger took time to acknowledge me that way made me feel pretty. You walked past again, and again, I'm not sure how many times. But each time you did you made sure I saw you. And each time I returned your nod with a truly heartfelt smile.

My only regret of that day is that the last time you walked past I didn't get up and say something. And now my only regret is that I have no way to thank you for saving me.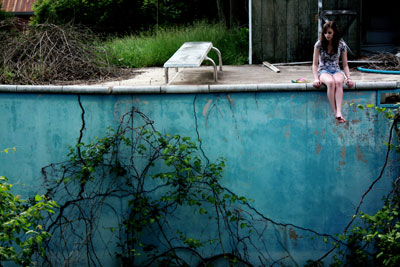 © Myra K., Somverville, NJ