Two Hearts: Chapter 3- The Movie
July 25, 2010
After Amanda caught up with her friends, they went on line to buy their tickets. They grabbed their popcorn from the concession stand and went to their seats. Amanda went to go into the last seat of the row but Melanie pushed her out of the way as she said,

"No, you sit with Matt."

So Amanda ended up on the other end of the seats with the red-carpeted aisle on one side and the gorgeous Matt on the other.

It was the middle of the summer and Amanda was in a skirt, flowing top, and sandals. She had left her sweater in the car and now started to shiver.

"Are you okay?" Asked a concerned Matt.

"Yes," she replied. "Just a little cold."

He out his arm around her and she leaned into the warmness of his perfect body.

"Better?" He asked with a breathtaking smile.

"Much." She smiled back.

Amanda braced herself into Matt's rock hard body as the lights began to dim. Then, the opening credits began to play...



"Good, it's over." Amanda thought to herself as they left the movies.

She had realized she spent the whole movie with Matt's arm around her and her head snuggled into his chest hiding her eyes from the screen. Now, as they left their seats, Matt's arm dropped slowly but surely to her waist pulling her closer to him. She didn't care of course but he seemed a little nervous about something because of the tension in his arm.

"So, me and Steph have to go to the bathroom." Said Melanie.

"No I d..." Steph started to protest but Melanie gave her a look, signaled to Matt's arm around her, and followed without a complaint.

Matt led them over to a bench and the two of them sat down.

"Look, I need to ask yo..."

"Brriinnngggg!!!" He was interrupted by his cell phone ringing.

"Hang on a second." He said to Amanda.

"Hello...? No, not yet... You just stopped me from doing it... Calm down.... I'm going to do it... Bye." He hung up.

"Who was it?" Asked Amanda.

"Nobody... Anyway I need to ask you something."

"Sure."

"Okay Amanda, this isn't easy for me to say. You are as graceful and elegant as an angel ascending from the heavens. You are such a strong woman for going through Alex's funeral and I have just one question... Would you like to be my girlfriend?"

"Um... Give me a second to think about this." she replied politely.

"Take all the time you need."

He got up and went to wait in the lobby of the movie theater while her eyes shifted to the window. It was raining cats and dogs outside and the trees whistled and waved in the roaring wind.

Unconsciously, she grabbed the necklace that lay around her neck that Alex gave her the night of their 6-month anniversary. She hasn't taken it off since. The necklace showed that Alex cared for her but she realizes that she IS strong enough to follow her heart instead of shying away from everything because of Alex's death. He would always have a place in her heart, but she didn't have to hold on to him forever. He was in a better place. She took off the necklace and put it in her coach wristlet. Never again would she have to wear that necklace to cope with the loss of Alex.

She ran to meet Matt as he opened his arms for her to come into.

"So?" He asked eagerly as his face lit up.

"Yes!" She cried as she buried her head into his chest.

"That's what I wanted to hear." He then lifted her head up till her eyes met his and kissed her so passionately. Once again, the world for Amanda could've ended but she would be safe in his arms.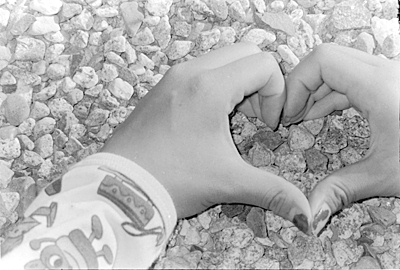 © Caitlin T., Marblehead, MA