Deserving More
July 24, 2010
"Please Steven! Don't do this!" She screamed panicked. Katie scrambled to get off the bed in her haste to run to him and stop the insanity he was letting tear them apart. "You're wrong; you're absolutely crazy if you think that!" She started crying by this point as she tried to wrap her arms around him and he stepped back rejecting her with a pained look on his face that soon turned to anger.
"I can't believe what I've done to you," he said with acid saturating every word he spoke. Katie cried out as if in pain and sank to the floor in front of him.
"No, please," she whispered in despair. Her heart broke inside her chest and it felt as though ice splinters were running through her veins. "You're the best thing that's happened to me ever. I don't know what to do without you. I love you. I need you," Katie looked up and stared at the blurry edges of Steven's face contorted in pain, grief, guilt, and revulsion. A sob broke through her as she again dropped her head.
The submissive pose and tears shook Steven's resolve as he questioned what he was doing. He knew he had to leave. That much was unquestionable; but how could he? His entire body shook with the phantom pains of loss he knew would soon become very real if he walked out that door.
"You deserve someone who won't hurt you. I can't promise that anymore. You deserve better than me," his voice cracked as he said this and soon he felt as though he too would crumble.
"The only thing that you've ever done to hurt me is what you're doing now," Katie whispered knowing that this wasn't at all what he was talking about.
"If I'm capable of doing what I did then I don't deserve someone as remarkable as you," he continued broken as if Katie had never said anything. "You can find someone better now; you can't love me, it's wrong. You don't deserve to have to have someone like me loving you," feeling as though the entire world had imploded Steven walked out leaving Katie crying on the floor.
She curled into herself sobbing so hard her chest felt on fire. Every part of her body hurt while she laid there in agony. Only one thought rang clear in her tormented mind. 'Steven's gone'
"No," she whispered in defeat as blessed unconsciousness took its claim on her tortured being.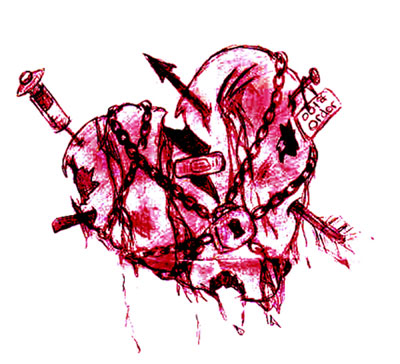 © Asia B., Hudson, MA