Girls Make Boys Cry
July 14, 2010
Brick by brick I sheltered my heart. So high and so wide no one could rupture it. I sit from inside and watch the people pass, some try to break through no one ever succeeds. Or so I thought. One girl did it. The wrong type of girl broke through. I know what's going to happen, but I can't seem to stop it. The way she smiles, the way her voice sounds. Sad truth is she is going to play me just like all the rest. I don't understand why I think I could be different. Maybe if I tell her I am truly in love with her. I would marry her, I would kiss her first thing in the morning. I love her. She broke my walls and now I am bare. Naked, all my truths exposed, and it feels so good.



"I love you." I blurt out the words abruptly, and awkwardly. I'm such an idiot.

"I love you too." The four words flood into my head. They swim around until I digest them.

"You love me ?"

"I love you."

"I mean, I seriously love you.."

"I know exactly what you mean I love you too."

"I would marry you right now."

"I would too, but you know school."

"Yeah, I'm not trying to rush you.. I'm just saying. I love you."

"I know exactly-" She stops and turns and kisses me on lips leaving me wanting so much more. "What you mean."

"Are you sure ? I think I might need a little more just to make sure." She laughs a little and gives me a deep kiss.

"How about that?"

"I am pretty sure now."



We walk through down town in silence, hand in hand. A bright smile on my face. I swear I've never felt this way before. I honestly mean it. I've never told a girl I love you. Suddenly the high I am on leaves my body, I forgot. She doesn't actually love me. I am not the first she has said that too, and I won't be the last. I let go of her hand. I stop right in my tracks. My heart isn't in my chest anymore. It fell to the ground. I can still hear it beating and I can still feel it, but I also have a new feeling. A gapping hole in my chest. She stops to and turns.

"Da'vante, what's wrong?"

"Chanita I love you.

"I love you too.


"Alright."

I hope she isn't lying. I hope I am the one, I hope she is the one for me. Maybe I am the exception. Maybe I am different from the rest.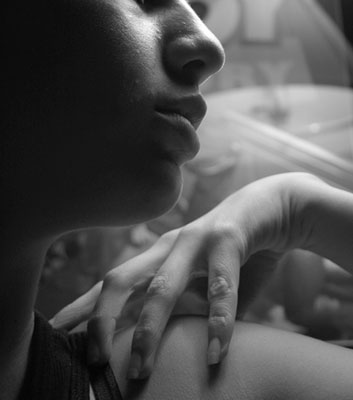 © Rebecca B., Santa Clara, CA