Never Forgotten
July 9, 2010
It's been two years, since she died. Withering away in the hospital bed 'till the cancer finally claimed her. I remember the day so well, the day me worst nightmare came true and my best friend disappeared forever. . . . .
We had just moved into our new apartment in Seattle, carrying boxes of memories and loads of furniture up two flights of stairs and though our tiny doorway. She was my best friend, and we've been together for a year and a half. It was time to move foreword.
I held her in my arms as we looked around out new home. Stacks of boxes and unorganized rooms, we started to make that hollow shell our home. Finally, after a few days, the boxes were gone, and everything neat and clean. You were so happy, always smiling as you walked around, I held you close. We shared a few kisses, and a simple "I love you".
Weeks past and things were great. I decided it was time, you were the love of my life, I wanted you forever. You left for work and so did I, you drove to your studio downtown, and I to my office on the other side. I stopped by your favorite jewelry store, and set aside the ring you've always wanted. I walked into the office smiling, dreaming of the future.
When I came home you were sobbing. I rushed to you and held you close until the tears stopped flowing.
"Darling what's wrong? What happened?"
You looked straight up at me with your crystal eyes. " Adam. . . I have cancer. . . They found it when I went for a check-up. Adam I'm scared."
My body went limp. I couldn't talk, I couldn't stand. We sat on our cough together and you looked at me. My face was pale, my eyes unfocused, your touch was all that brought me back. Your hand rested on the side of my face, and I held it there with my own. We shared a kiss, a long one, as if it were our last. I pulled away and held the ring in my hand.
" Marry me. I love you." I stared deep into your crystal eyes and did my best to smile.
You screamed yes and wrapped your arms around my neck and I picked you up and spun you around. That ring was perfect for your finger. It glimmered and reflected in your eyes.
Several months past and your flowing hair was gone. You had to sell your studio to pay the hospital bills. Kimo wasn't helping, you were dying. It broke my. Seeing you so weak. Laying in your hospital bed, me by your side, gripping your hand as if I held on you wouldn't leave. I knew better.
You said my name softly and I stood as close as possible my hand rested on your face, the other holing yours.
" Adam. . . God is calling me. It's time for me to go. I love you. I'll be waiting for you. I'm in your heart forever." You smiled, and we shared our last kiss. It was sweet and soft, gentle with your passing. The monitors went blank and I kissed your cool forehead for the last time. A single tear escaped my eye. I look at you and smiled. You were peaceful, beautiful.
Your funeral was beautiful, colorful and bold. I knew you wouldn't wasn't black and dull. Everyone came and said their good-bye's, I was the last to leave. That day was to be remembered. Our song filled the air and I walked away with a smile on my face, knowing you were waiting for me always. It was like you were just a few steps away. You were missed, but never forgotten.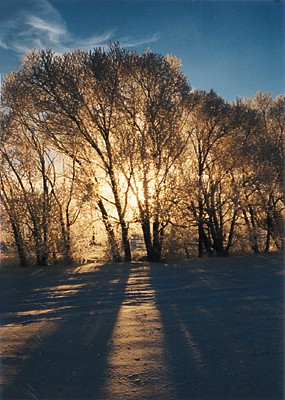 © Kyle G., Badger, MN