Black Thorns
July 3, 2010
I walked across the food court, trying to ignore how my stomach reacted to the aromas of the food around me; I had skipped breakfast on account of Carmen's call. But I hadn't come here to eat. I came here to think.

I glanced around me, trying to find a quiet spot where no one could disturb me, when I saw an empty seat next to the wall of glass. Walking over to it, I realized that it was an artificial waterfall, with a well at the bottom. As I sat down, I pulled up ,y knees and wrapped my arms around them, resting my chin against the glass. My eyes traced the patterns of the water as it trailed down. Mesmerized at the sheer beauty, I lifted a finger, following the designs when something glittering caught my eye.

I looked down at the artificial well to see quarters, pennies, nickels, and dimes at the bottom. All of them wishes, made by wishing people. Absentmindedly, I pulled a quarter from my pocket, and considered tossing it in with the rest. I rolled it across my fingers and watched how it caught the sunlight.

I had come here to think. To figure out what was going on with me. And because nobody asked questions about why you were crying.

Already, I saw a young lady weeping with a man's arm around her shoulder, comforting her. She buried her face against his chest as he kissed her forehead. The way he held her reminded me of how Thomas had held me this morning in class. And even though I had been crushed by my aunt's stroke, I still managed to feel peace, feel hope as his arms were around me. I wished.

Holding the quarter in the palm of my hand, I prayed for the first time in my life. In my mind, I saw Thomas's face, and my heart swelled.

"Love me." I whispered, and gently tossed the coin in the water.

I leaned my head against the wall once more and closed my eyes; I didn't want to see if the coin was heads up or not.


I took a deep breathe as I remembered the conversation I had with Carmen on the phone this morning.

In love. She said that I didn't just like him anymore, that I was in love with him. My pulse quickened when I remembered how close his face had been to mine in the waiting room. How his black eyes burned into my soul.

"In love," I murmured, and touched the necklace he had given me, my fingers tracing the smooth surface or the silver heart.

I sighed and closed my eyes again, trying to sort out what my hear was trying to tell me, and what my heart was trying to tell me.

My heart was saying that he liked me too. What other explanation could there be when the guy your crushing on gives you a heart necklace for Christmas and holds your hand?

But my head was saying that we were never just regular friends, that our relationship had always been a little peculiar, and this was nothing new.

I groaned and banged my head against the wall; My thoughts made no sense, even to me.

Whenever I saw him, all I wanted to do was have him hold me and tell me that he was feeling for me, what I was feeling for him.

Eventually, when I couldn't stand thinking about Thomas anymore, I took out my iPod and put the music so loud that I couldn't even hear my own thoughts. I buried my face in my arms so no one could see my face. I didn't want anybody to see the moisture that had brimmed over in my eyes.

I don't know how long I sat there. But I must have fallen asleep because it felt like seconds later that the sharp ringing of my phone woke me up.

"Hello?" I asked, my voice a little hoarse.

"Anna? Where are you?" Carmen asked.

"Food court," I answered.

"Could you please come and get Carla please?" she pleaded. "She's kind of freaking out." I smiled.

"Sure." I smiled

"Thanks Annie." she said, and I laughed softly.

I stood up and walked over to the little well. I looked down at all the coins and sighed.

"Love me," I pleaded and turned my back, walking away, leaving my heart behind.






Thomas waited until Anna had left to walk over to the well. He looked down. So many wishes…. but he had only one in mind.

Looking over his shoulder to her retreating figure, he took out a quarter from his pocket. He held it in the palm of his hand for a moment. Then he tossed it into the well, watching as it caught the sunlight as it flipped in the air.

"Love me," he murmured, and slipped his hands into his pockets, his thoughts full of Anna. He pictured her face, her special smile that she gave no other but him. When she laughed, the sound was so beautiful, like music that he would give anything to hear it again. He remembered when Anna had gotten the call about her aunt's stroke, he held her, and even though she was in pain, he had felt a deep joy in holding her. Just like whenever he held her hand and she squeezed it.

He remembered how close her face had been to his in the waiting room, and his breathe quickened. Her brown eyes felt as if they could read his soul…

For a moment, he stood there unsure of what to do next. His heat swelled when he realized he was going to go find her.





Behind him, in the little well, two coins sat side by side, both facing heads up.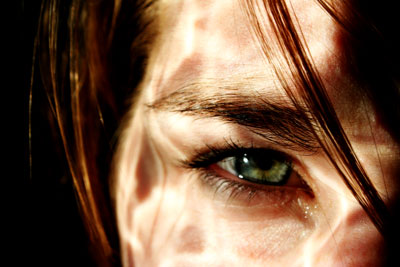 © Monica L., St. George, UT