The Falling Star
July 8, 2010
That night, although they were at Andrea's party, it seemed to them like they were alone. Just him and her. Two worlds, the same as much as different. They were fitting into like little parts of puzzles, poles of magnet, but always wanting and striving for finding themselves. A small part of the puzzle, called 'braveness' was missing. Night was already passing; it was about 2 a.m. "Bitter leaf" had done its part. A bigger part. Maybe even the main one. It might be that all happened thanks to it. All those feelings hidden for two years. The fear from defeat, from refusal. The fear from the word NO which is so powerful that can make shorter even the longest way to happiness.

"Come here, I want to show you something", he said to her and handed her his hand. They stole out of the room where everyone was dancing like they had taken opium. With no rhythm, like it was just a simple, mechanic action.
"Where are you taking me?" she asked him. He was holding her hand and was almost running upstairs, to the floor, towards the attic. The drink reached the best of its role. She started to trip over her legs. Mark was already sobering up.
"Hey, slow down, man!"
"This way we'll get there faster", he bowed and took her in his arms. Her curly hair was waving while she was waving her head throwing it back.
"Woo!" she was screaming happily. She liked how fast Mark was moving, two or three steps at once.

The attic. Just like she was imagining it. A small, narrow room where everything was made of wood, handmade. And a small window on the roof. One more, even bigger. He took a blanket from a chair which was standing there in the darkness. He opened the bigger window, which was under slope, that he only needed to pull himself against his hands. He threw out the blanket, squeezed his hands through the frame of windowpane and his head appeared outside. Cold wind was pleasing to his face, still reddish from alcohol. He threw out upper part of his body, pulling against it by his hands. His legs were still hanging down and connecting him with the attic. He sat on the roof on his back, pulled out legs and then handed Emma his hand.

"It's cold to me", Emma said trembling and squinting. It was warm in her stomach and the taste of wine was still in her mouth. She could also taste some more things she ate so that she would not feel sick. The city under them was shining by moon light. The river got the colour of night. She was with Mark on the roof of the building. Him, the boy who adored by all the girls from school. The only one who never used any kind of narcotics.
He was so special, unique. Lighted brown hair, soft features, and well-built muscles. Warm, soft hands, fingers like made by sculptor. Sportist. He wrapped her in the blanket. The sky was getting copper. It was 4 a.m. Stars were disappearing in that colour. Somewhere, far away, a little blue cloud was trying to reach the sky. In a couple of hours a new day will come. They were sobering up in cool spring night. She put her head on his shoulder and thrust it into his neck. The smell of STR8 was still there, although they were in a room full of cigarette smoke. They heard nothing, but their own breathing.

"Come here." They sat on roof tiles, in half-lying position.
"I can't believe it", she said inadvertently. It seemed like those four words were fighting to slip away from her lips.
"What is that?"
"Oh, nothing, you'll laugh:, she was trying to get out of embarrassing situation.
"Come on, tell me, please!" He was taller than her, a year and a half younger, but seemed like a five-year old boy.
"I forgot my cell phone downstairs, that's it!" she laughed. Mark was looking deeply into her eyes.
"There is something more, I suppose", he said. From a five-year old boy he returned into a fifteen-year old one.
"Why do you think there's something more I have to tell you?"
"Because I know. And because I have something to tell you, too."

She was looking somewhere far and was breathing the smell of night. Refusal seemed to be almost impossible now. This may be the last chance for her to tell him. Anyway, in a month and a half she is finishing high school and that story might stay unfinished. And it could be even started. She opened her mouth, but he stopped her.
"I think I know what is going on", he said. He put his hand up in the air. The falling star was falling down slowly somewhere to unknown, but he put his hand and it left there. Its form stayed but it was transforming into dust. He gave her his hand.

"This is for you", he said.
They spoke nothing more. The way of looking each other was telling everything. They were standing there, expecting magical morning moments. When they looked at his palm, the dust wasn't there anymore. But he was there to keep their small, still unsaid secret.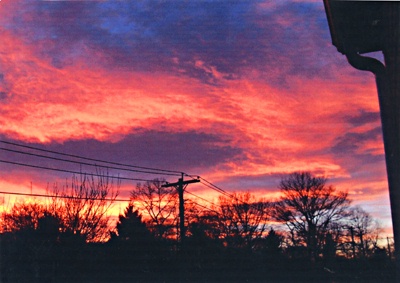 © Robbie M., Milford, CT