With Love (Improved version of My Eternity) (Preface)
July 2, 2010
Mitchell pulled out a small satin box from his pocket. Holding the box tightly in his palm, with Gabriella's hand in the other, his emerald eyes met hers.

"Gabby," he began, taking a short pause before finishing his sentence, "I want you to have this."

He opened the box to reveal to a ring with a small diamond heart in the center of the silver band. She clasped her hand over her mouth, struggling to hold back tears.

"Mitchell, it's beautiful… I can't accept it, though," Gabriella denied, beginning to push the box back to him. "It must have cost a fortune."

Mitchell only shook his head as he took the ring from the box and slid it onto her ring finger. A smile couldn't help but spread across her face as she noticed how perfectly it fit. It was almost as if it was meant to be there.

"The price doesn't matter, just as long as you like it." Gabriella smiled and wiped away the stray tears on her cheeks.

"I absolutely love it."

She wrapped her arms around his neck, him doing the same with her waist, and pulled them close together.

Mitchell brought his lips to her ear and whispered, "It's a promise ring, you know."

"Really?" Mitchell nodded with a beautiful smile on his face. He was now holding Gabriella's hand lightly in his.

He whispered again, "I promise that no matter how far apart we are, I will always love you."

She smiled as a tear slid down her cheek and replied, "I love you, too. Forever."

Mitchell caressed her cheek softly with his hand. Gabriella held it there with her own, wishing that it could remain that way forever.

"Why do you have to move? Why can't you stay here with me?" Gabriella questioned as more tears stung in the corner of her eyes.

"Don't you think I would if I could? If I had any choice in this move, you know I would choose to be with you. You mean absolutely everything to me, Gabby. I have no idea what I'm supposed to do without you."

Mitchell pulled Gabriella into his arms again. She rested her head lightly on his shoulder. He gave a light peck to the top of her head and tightened his arms around her.

Gabriella had a solemn feeling in the pit of her heart, knowing that this would be the last time they would be able to do any of this until he graduated school in two years. She hoped that then he would return to her and after she graduated the following year, they could be together for the rest of their lives.

She closed her eyes and cried into his shirt, realizing the more that she thought about their possible future, the more it hurt for her to let him go.

Mitchell lifted her chin so that they gazed into each other's eyes. They became closer until their lips connected. Each motion that they made together felt like fireworks bursting. The passion they had was like nothing they had ever felt before.

Their lips finally released with a smack. Both Gabriella and Mitchell were left trying to catch their breath. He pulled her into his chest once more. They began to sway, as they wrapped their arms around each other.

"I will never let you fall. I'll stand up with you forever," Mitchell sang. Never before had his voice sounded more beautiful or pure.

His voice eventually faded into a soft hum. The moment was truly and utterly perfect. Gabriella was not naïve, though. She knew that the boy that she had grown to love and trust, and the perfect moment that she had taken the time to build with him, would soon be coming to an end as she turned her head to see the sun slowly rising over the ocean. She turned to Mitchell only to see that he was watching it as well.

Although Gabriella knew that they both had to leave before their parents realized that they had snuck out of their houses for one final night together, her heart was doing its absolute best to try and keep her there.

Gabriella could feel Mitchell release her as she debated in her mind whether to leave or not. She stared at him as he took her hands in his. A single tear rolled down his cheek. His eyes met hers again.

"I have to go," he managed choke out.

"Please, stay. Just a few minutes longer," Gabriella begged. He just sighed heavily and hugged her. Gabriella sobbed quietly into his chest again.

"I love you," he said quietly.

She could hear his voice becoming more shaky. Gabriella knew that he was trying to contain himself and make their final moments together as happy as he could make them.

Gabriella was given one final kiss goodbye. Her fingers trembled as they rested upon his cheek. Her lips lingered for more when they stopped. He held her hand on his cheek for just a moment.

"Goodbye, Gabby," Mitchell said. He brought her hand to his lips and pecked it softly. He turned to leave slowly, as Gabriella could only stand there and watch him leave her.

The pain that she was enduring was far too much for her to stand. She choked on her sobs every now and again, watching as Mitchell became more and more distant from her, eventually only becoming a shadow to her eyes.

Within that very instant, the love of her life was gone.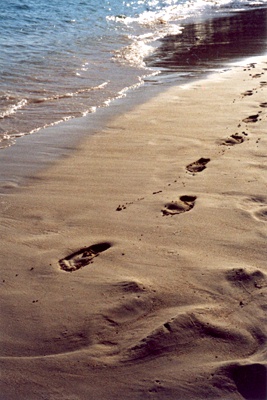 © Ashley B., Potomac, MD