The Road to Breaking My Heart (Chapter One)
June 28, 2010
I sighed as I stood outside the school wondering how in the world I had agreed to start public school. It wasn't bad enough that it was my first year not being at a private school- I was also starting a month late. All the other freshmen were sure to already have a group of friends. I was sure to eat lunch alone every day….ugh. I picked up my Aeropostale shoulder bag and walked through the doors into the swarm of high-schoolers getting ready to start another ordinary school day on September 7, 2009.
I dejectedly looked at my note from the school secretary


"Go to counselor's office to meet up with your guide."
The note didn't mention whether the guide was a girl or guy, but I was really hoping for a girl to show me the ropes. Guys never know what they're doing. I swear, half the time they don't even think at all. Anyway, I found the door that said "Counseling- Jenna Lyons" so I pushed it open and stepped inside. Well, I tried to make it that simple. Reality was- I pushed, door stayed shut. I pushed harder-it barely even moved. I dug way down and gathered my last resource of energy and really pushed it good. I flew in the door and fell on my face. It would have been bad enough if I had just landed on my face, but of course I landed on someone's feet. Someone who was standing very still. Someone who was wearing very strong cologne. I tried to get up, but it wasn't working too well. A very welcome hand reached down to me, and I graciously accepted. Stranger boy helped me to my feet. I was standing very close to him, and my eyes barely reached his chin. I couldn't bring myself to look up. Every so slowly he reached my chin with his hand and gently raised it up to look at him. His piercing blue eyes stared deep into my olive green's.
"Are you ok?" He asked. Although he tried to sound concerned, laughter danced in the corners of his eyes. For some unknown reason, that made me really mad. I glared at his magazine worthy face.
"Yes, I'm just fine. I fell onto some strange guy's feet in some counselor's office in the middle of a school that I've never been to before and I don't even know if I'm the right place and…"

"And she speaks," He grinned at me.

"You know what? I really don't need this right now. Just tell Miss Lyons to tell whoever my stupid guide was, that I have already been welcomed at this school and I'll find my classes on my own." I rolled my eyes and picked up my bag.
"Whoah, chill out! You have to give me a little break here. It's not every day that a girl throws herself at my feet. I need a minute to recuperate. Oh, I'm Kevan Westly by the way; I'm guessing you are the new girl?" He stuck out his hand. I stared at it for a second before reluctantly shaking it.
"Duh, I'm the new girl. What gave it away? I also have a name."
"Sorry! What's your name?"
"Piper Renee`"
"What an unusual name." Yeah, never heard that before.
"Where's my guide?"
"You're looking at him!" C***. I groaned inwardly, because although he was pretty cute, he was a guy. I'm so bad with guys.

He must have seen the conflicting emotions running through my eyes because he look straight at me and said, "I promise it won't be quite as bad out there."


I grimaced, again and nodded. He quietly took my elbow (yes, my elbow) and led me out the door and into the flow of students. He walked me into my first hour, Physical Science, just as the first bell rang. I smiled gratefully at him as he introduced me to my teacher then informed me that he would pick me up for second hour. The teacher gave my book and assigned me to a desk with a girl named Angie Raymond. She seemed nice, but I was glad when the bell rang. Kevan escorted me to my second through seventh classes and other than introducing me to the teachers, he didn't talk at all. I ended up meeting with my principal over lunch so I didn't even have to worry about making friends for that. Worked for me.

Kevan picked me up after seventh period and finally spoke to me. "I'm sorry about being so lame this morning, its just that I knew that I would be escorting someone, but I didn't know it was a girl, and I didn't know she was going to be so pretty and I really didn't expect her to land at my feet. So, uh, sorry."
By the time he finished, I was grinning. He was cute, not my type, but cute.

"It's fine, friends?"

"Yeah, friends." He smiled at me and walked me to the door of my car.
So, with that, I made my first friend at Concerda High School.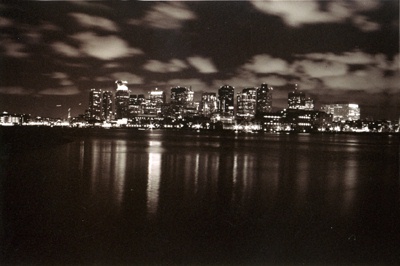 © Hoang P., Rochester, NY