Her Love
May 24, 2010
A beautiful girl is waiting, speaking her heart out into the night. As the clouds emit a delicate mist, the droplets collect on her frozen lips and slide to her chin. She pays them no mind, lets them fall to her neck and down. She shivers, but is not cold. She whispers, but nobody hears. Only the trees, and the field.
The girl gives a coo into the fog "Lend me a light, dear, if I am ever to live life without you." Suddenly, someone listens. Someone hears, and replies. A single firefly emerges from the grassy plain and shouts the brightest neon it can manage. The girl is looking away, does not see this, and falls to her knees. She calls a little louder "Sing to me if I am ever to feel joy again, my love." Just then, in the distance, robins awoke from their dampened nests, toads from their marshes, cicadas from their bushes, and all called proudly into the darkness. The young girl in the field begins to cry and sob in despair, and hears none of the nature except the pat of raindrops on her gray blouse. Her tears fall with them, silently, slowly.
She becomes desperate and loud, "Please! Move me if I am ever to feel your touch again!" The wind blows in from the North, and every direction at her, strong and fierce, but she does not budge, for her desperate fists full of blood and frustration clenched the Earth tight. The cold air falls into an eery quiet...and nature is hushed...and blood drips from her lip as she bites it.
A terrifying scream echoes across the plains, into the distant forest, "Silence me so that I know you can hear me!"
And someone listens. And someone hears; replies. A beast, full of fur, teeth, hunger. It moves silently in the shadows of tall grass and reeds, and gazes with golden eyes into the girl's soul. In front of her, this wolf shows only understanding and peace. The girl shows acceptance and gratitude, and wipes her salty tears away. There is no fear. No remorse, and no more uncertainty. "My love..."
And the beast feeds on her, silent, and vanishes. It leaves into the sky and does not look back.
The sun rises, shining bright along the horizon.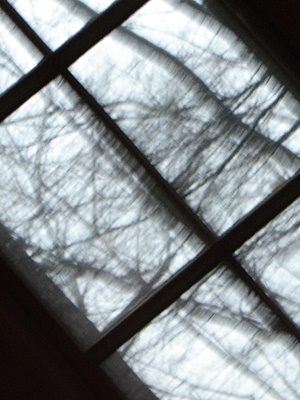 © Claire H., Boxford, MA