Girl in the Forest
June 27, 2010
I was sixteen when I first laid eyes on her, the girl in the shadows. I'll never forget that day as long as I live. She was the most beauteous thing I'd ever seen, and have yet to see. She was an angel sent from heaven. She was the sky, her smile was the stars and her eyes were the moon. She was the white light in a black world.



I had been saving my money up, for as long as I could remember, to buy a brand new truck. What kind, what color, it didn't matter, as long as it was a flatbed. My family was always short on cash so I tried not to bother them with things I wanted. We lived in a small town where most of the community was pretty close, so finding odd jobs wasn't difficult, even as a kid. I washed cars, walked dogs, swept up at the diner, went grocery shopping for people, babysat, painted houses, watered plants, mowed lawns, I could go on forever.


As I got a little older, my brother taught me how to play guitar, and I taught myself to sing. I got pretty good and started playing in the pub down the street for a few bucks now and then. Eventually they hired me to play every Friday night. Everyone started eating there Friday night thanks to me, but I also had a part-time day job at the diner on week days.


So when I finally got my license a few weeks after I turned sixteen I bought my truck. It was old and worn down, certainly not the shiny brand new one I'd been hoping for, but it was what I could afford so I was good with it. It had to have been from the sixties at least. It was faded red and the paint was chipping, I did all the motor work myself, but all in all it turned out to be a good investment.


Anyway, the day my car was finished I drove it out to my favorite place in the world. It was a little open field surrounded by trees of all sorts. A creek ran along the edge of the field, half surrounding it, then it continued through the dense forest. I could almost taste the crisp clean air. It smelled like dry grass all the time, but it was always green. The running brook and chirping birds were never enough by themselves though, only my guitar could make it perfect.


I rode my bike out all the time before I had my car with my guitar strapped to my back, but obviously having a car was much more convenient.


That first day I took my car out there, I brought along my guitar as I always did, and a ham sandwich from the diner. After taking a few bites I sat down in the clean polished bed and started playing. The running water, the birds, the trees in the breeze, the notes flying from my own guitar all fell perfectly in tune with one another. I would have kept going if I hadn't suddenly had a hankering for more ham sandwich, but then, just as I was leaning over to take a bite, I saw a girl through the trees.


She was deep in the forest so that she looked two centimeters tall. The trees obstructed most of what I could see of her, but I could see that she was standing where the creek begins to turn from its semi-straight path to the East, then back to my field. She was wearing a white dress and had golden hair. That was all I could see of her.


I imagined what her face must look like. It was gorgeous. She was the most beautiful person I had ever seen. She had big, glittering, bright blue eyes and a billion dollar smile. She was just my age and a little smaller than me. She became prettier and prettier until I couldn't think of any possible way to make her any lovelier.


My next big question was slightly more difficult; should I approach her? What would I possibly say? Hey, it's nice to meet you out here… where there's no one else around… and no one ever comes… where no one can here you scream… I'm that creepy guy who has nothing better to do than sit out here everyday… you know, the one who's been staring at you from behind for the past half hour… I couldn't go up to her. Not now. Maybe tomorrow, I told myself. For that moment though I figured the best thing I could do was to play as loud and well as I could and hope she would hear. Maybe she would approach me.


Needless to say she didn't.


On my way home I imagined what she would be like. She liked to sing and dance. She was the perfect addition to my shows at the pub, my duet and entertainer. Her laugh was the sound roses would make if they could make a noise. She was obsessed with traveling the world. All she ever wanted to do with her life was explore new places, learn about different people and cultures.


I lied in bed awake that night dreaming of what kind of person she was. She was kind and sweet, and would never hurt a fly, but she was tough and blunt with people when she had to be. She was humble and friendly with a love for making people happy, even strangers. She was different from everyone else in the god forsaken town. She wasn't religious like the rest of us. She didn't go to church on Sunday, or celebrate Easter. No, she celebrated many holidays, holidays from all sorts of cultures all over the world. She did things differently. She liked the same music that I did, and books, and movies. She was perfect.


So the next day I went back to my field in my faded red truck with my guitar and an egg salad sandwich from the diner. I had gone to talk to her, I wanted to meet her so badly. I sat in the bed of my truck again and played my guitar, but my eyes were glued to the bend in the creek deep in the forest.



About a half hour later when I was down to my last bite of sandwich I caught sight of a white smudge by the water. It was her, I was certain of it. She was kneeling by the water. I knew it was her because I could see her dress and golden hair floating in the breeze over the water.



I was fighting a battle with myself as I strummed away. I couldn't quite tell who was winning… Now's my chance! I should go now before I lose confidence! No, wait, too late. She looks like she wants to be alone anyway, I should leave her to it. So with that I left, infuriated by my lack of belief in myself. At home I dreamed and imagined some more. It got to the point where I wasn't just pretending anymore. I actually knew her. I liked her…

Our high school prom really wasn't a big deal. Or, I guess it was for the girls. The guys, well, I don't know. It's a small school. We had maybe sixty students, and we didn't have anywhere really formal or fancy in town, so it was just being held in the pub down the street. Some girl asked me to take her, but I figured I'd have a date by then.

I was driving out to the field every day just to watch her. It sounds a lot more creepy in words, but it was becoming something of… a hobby, I guess you could say. Alright, I was a complete stalker. I felt bad for what I was doing, but she was so beautiful, and so perfect. I was in love with her… deeper than I ever meant to fall.

It was a week before prom and I finally decided to ask her. Well, first I had to meet her, but I already knew her so it would be that much easier.

What if she didn't like me though? What id I wasn't good looking enough for her? What if she thought I was some weird psycho who was obsessed with her? I was head over heels in love with her and I didn't even know her name, let alone anything about her. Even so, I didn't think I could bear her rejection. What would I do without her? How would I go on?

I wrote a song about her that night, before I went to ask her. It was my best work I think. It was about her beauty, her grace, every wonderful perfect thing about her. I was hoping she had heard me playing from where she always was in the woods. Just maybe she had been thinking about me too…

So the next day I drove out at the usual time, only without a sandwich, and searched the trees for her golden hair and white dress. I could've sworn I saw her. I headed out into the trees for her usual spot, but she wasn't there. No one was there. It didn't look like any one had ever been there. There was a grey rock sitting at the edge of the stream, there were openings in the trees everywhere where rays of gold and silver sunlight shined through into the dark shadows of the trees, but there was no girl.

I never did lose hope. My friends thought I was insane, but I was determined to see her again. I know she was there. She had to be. She was, there is no doubt in my mind. There have been times when I've lost hope of ever seeing her again. But my hope was and always will recharge and I will always be looking for her. She was, after all, my first love.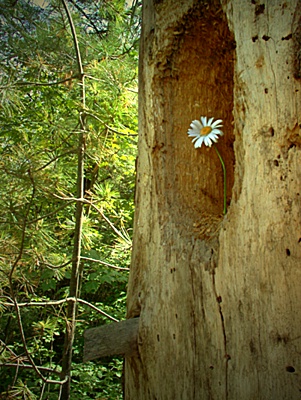 © Anna R, Sudbury, ON, Canada