How to Romance a Sweet Pea
June 27, 2010
Five more minutes, John told himself. Five more minutes would he sit in Cup O' Joe looking like a complete idiot. "Why did I wear a sweater vest? I look like a square. She'll walk in and walk right out," he thought, the sweat in his underarms pooling with his increased insecurities. Maybe she already had walked out, and if she did, how was he to know? His buddy Scotty had only told him to be at Cup O' Joe on the corner of Victoria and Yonge at 7:30. Nothing else - no name, hair color, short or tall. Scotty had obviously taken the term "blind date" a little too seriously.
John tried to read the article in front of him, but he couldn't seem to move past the title proclaiming "The Romance of Sweet Peas". The romance of what? How are sweet peas romanced? Did Mendel leave that theory out of his wild type and dihybrid crosses? John had other concerns right now; he had little patience for the ridiculous romance of sweet peas. Yet again, the paper was saving him from seeming like a total loser sitting alone in the eclectic coffee house. The barista glanced up at him every now and then, but she was more preoccupied with the guitarist in the corner crooning The Kooks' "Oo La La" to his coffee cup. She flitted behind the counter, dancing to the melancholy tune as she wiped away the traces of the last customer's vanilla chai. John scanned the next article finding an even better selection – the horoscopes! "Venus and Mars will prompt you to look extra pretty on the 14th; you never know if you'll run into your crush at the office party!" John couldn't believe he was reading this trash. Who was he, some preteen girl reading her mother's Cosmopolitan? He was just going to have to settle for "The Romance of Sweet Peas". Journalism these days, no wonder everything is online. For the 532 time, John reread the title and finally progressed to the first sentence – only to be interrupted by the stranger looming beside his table.
"Are you John?" the voice asked.
John looked up to see the barista waiting and ready to leave. Her whipped cream and fudge speckled smock gone, and a wool newsboy cap perched saucily over her chestnut hair.
"Oh yeah…Yes, h-hello," John stammered tripping over the foot of his chair. The barista chuckled under her breath and flashed a smile as if she too understood how awkward this meeting was.
"I'm Charlotte, but call me Charlie," she said extending her hand firmly. "Now let's get out of here…caffeine with a blend of terrible musicians," Charlie motioned to the corner crooner, "equals a triple shot of headache".
John suddenly didn't care if he looked like a loser, or if his clothes weren't right, he knew he was going to have a great time with Charlie. He still hadn't let go of her hand -which he lead out the door of Cup O' Joe and into the starry city night.
As John kissed Charlotte good night in Dundas Square, ending the best date he'd been on in months, he remembered the article he'd left on the table hours before. He recognized the perfume that filled his heart with laughter and begged for more. Sweet Pea.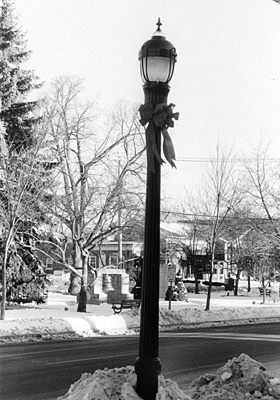 © Geoffrey D., Milford, CT