15 Years of Saying Goodbye
June 19, 2010
His smooth fingers ran through my hair, as he whispered he loved me. He talked about the time when he would come back for me. He promised me a happily ever after, with the big house and kids. And then he promised me he would come back from the army, alive.

An angry lady pulling into the parking lot beeped her horn at the persoon who almost hit her. That made me snap back to reality and realize it was time to face my fears. Today was my highschools fifteenth reunion. It was the dayhe was suppose to be back.

As I over looked tht ent,i saw a group of girls I thought I recongized dancing. The music was loud just like our senior prom, and there were balloons decorating the entrance. I decided to walk down to the tent. I couldn't believe I was getting myself into this. It was like I was packing all my highschool problems into one day. But all my worried disappeared when I thought he might be there.

I walked into the tent, as I felt someone touch the middle of my back and I turned around, hoping it would be him. And it was. I smiled and jumped into his arms. :I miss you," he whispered. I smiled and kissed him gently on the lips. He sat me down and smiled real big, " Can I ask you something," he asked. My heart started pounding faster and fasterand my hands started shaking. I nodded my head and smiled.

Then he did what I could only dream of. He got down on one knee, "I promised," he said, "Will you marry me?" I screamed yes with tears in my eyesand wouldn't let go of him. And then I was alone, underneath the tent, and the ring on my left hand just a second ago was gone.

There was an annoying screeching in my ear and I reached over and hit my snooze button. It was just a dream. A dream liek the many otheres where everything worked out perfectly. I closed my eyes replaying the day that actually happened. It was my fifteenth year highschool reunion and I ran into the tent looking for him, but found a letter from him instead. It told me he loved me and how he missed me every day he was away. He told me how he thought of me everyday, and than it said that he wish he could give me everything I have always dreamed of but that I would have to move on. And that he was sorry that he broke his promises. His promise that he would be back. Alive. And that was the day my heart broke into a million peices.

I realized my life would never be the same. A big part of me was gone. I was broken but I knew I could neveer pick up the pieces. And everythime I wake up there is this emptiness inside ofme that I knew I never would be able to fill. My heart was trufully forever his.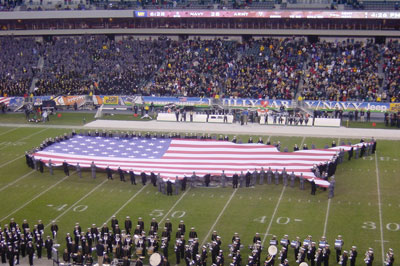 © Kristin B., Middletown, DE