Tears Replace the Rain
June 13, 2010
"It happened thirteen years ago. The day I regret my actions. Thirteen years of feeling sorry. Jessie, my sister, Tony, our best friend, and I were trick-or-treating and we snuck away toward the cul de sac. Little kids aren't supposed to go in the woods behind the basketball hoop. But Jessie was curious. The woods that night looked like a perfect Halloween stereotype," I said, describing the scenery of the recollection.

"Witches cackled from nearby houses and screams coming from horrified children echoed off the trees. As soon as my sister and I stepped onto the unseen dirt, we were bathed in the darkness of towering trees, no longer feeling the safety of the warm glow of the houses," I'm getting lost in the memory but switch back to the scariest thought.

"So Jessie ran ahead, leaving Tony and I behind, but was stopped by a little river that seemed bottomless yet was probably only one foot deep in the daylight. Knowing Jessie, I knew she wanted to get to the other side of the river. I was proven right when she set down her skeleton bag full of candy.

"Come on Tuesday! Wanna swing Tony?" Jessie yells as she holds a rope the teenagers probably tied on a tree above the water.

"The next thing I know she's swinging over the river, just about to make it to the other side. But she didn't hold on tight enough," Tears well in my eyes but thankfully don't fall down my cheeks. I don't want to have a breakdown in English class in the middle of the Western Washington University campus. "The last thing I saw was my sister's Cinderella tiara floating in the murderous water. Tears replace the rain dripping down my cheeks that awful night thirteen years ago," Looking up from the piece of carpet I've been staring at, everyone's bewildered expression is what I was avoiding.

"So if I had a time machine, I would go back in time to prevent my sister's death," I said, ending my presentation. Mr. Clementine gave us a prompt: If you had a time machine, what would you do with it? "Make it deep and have it come within. I want to feel the emotion," were his exact words.
So I wrote about Jessie, which no one at WWU has heard of my devastating loss. Except for Tony. Tony Roberts, Jessie and my best friend.

The only good thing that came out of Jessie's death was Tony and I bonded over the tragedy. We grieved and connected in a way only kind-hearted Jessie could have caused. I feel she pushed Tony and me together to become more than friends. Which worked successfully because I, Tuesday Miller, will be, in three months, Mrs. Tuesday Roberts. I remember on the day of Jessie's funeral, Tony hugged me and wouldn't let go until I hugged him back. And he has hugged me like that every day since.

But I can't help but think what it would've been like if at our June wedding, I had my sister standing next to me, in a lavender bridesmaid dress, as my maid of honor.

*
*
*


Cold and dusty from not being used in ten years. But to me it seemed like it was just yesterday that my dad was telling me of these great adventures he was going to take using just this little coffin-sized machine. Everyone said he was crazy even thinking of building a time machine. He didn't listen to them but quickly realized they were right. It wasn't working and wasn't working, but he kept on trying. Finally, one day, he just stopped trying.

I came home from college, avoid running into my parents, to see if the machine would work. The attempt has crossed my mind before but I didn't have the courage to face the memory again even if it did work. If Mr. Clementine didn't give the assignment I probably never would've hoped for it to work again.

My dad showed me how the machine was supposed to work years ago. "Red, orange, yellow, green, blue, indigo, violet," I recited the order of colored buttons as I pushed each one. He made them the series of colors of the rainbow so I'd memorize them. "October 31, 2002. And the lever," I type in and pull, breathing an anxious sigh.

The ride, of all that I can recall, was bumpy but prompt. In between years 2006 and 2005, the lever hit my head. Emerging from the compacted space, I rub my head and almost knock off a cheap red wig and Ariel tiara.

Yes! The time machine worked! You weren't crazy dad! I'm seven years old in my Ariel costume! The woods look just like I remember them. I think as I look around the familiar crowd.

"Tuesday, look, it's a river!"

Jessie! It's Jessie!

"What are you waiting for? Let's go!"

Tony! I can't believe I'm actually here! He looks adorable in his cowboy Woody costume.

I can't even bring myself to speak in my seven-year-old voice, and have to have Jessie grab my wrist and run towards the water. My mermaid tail dragging in the dirt behind me. Once we approach the stream, she has no problem finding the rope.

"Hey Jessie, maybe we shouldn't be here. I feel bad. Let's go back to dad," I said, picking up her skeleton bag she just set down. Jessie seems to be debating it but doesn't okay right away.

"We can go count our candy. I'll trade you Laffy Taffy for a box of grape Nerds," That seems to get her attention and finally steps away from the edge of the hill of dirt above the water.

I link my arm with hers and Tony's and skip out of the woods. But soon, my surroundings merge together into different colors and I'm back in the time machine. Which isn't fun due to being smacked around and hit in the head with the lever again. Coming out of the machine patting my once-again bleach blonde hair.

Something my dad didn't tell me was that after traveling thirteen years into the past, everything aches. I lift my throbbing legs up the basement stairs and hear a voice before I make it to the top stair.

"Hey, where have you been? You went to the freezer to get some ice cream a half hour ago," I look up the rest of the flight of stairs and pause to see… my sister. Well, I'm pretty sure it's my sister. This is the grown-up version that I never got to see. She looks so casual with her legs crossed on the bar stool, flipping through a magazine. Dark brunette with a French manicure, the only thing that came close to that when I last saw her was frizzy dirty blonde hair and self-applied rainbow nail polish.

"Jessie!" Running the rest of the flight of stairs, wrapping her in a bear hug.

"Yep, it's me. You okay?" She says, looking at me weird.

"I'm actually perfect!" I say, loosening my grip. Jessie doesn't seem to be convinced that I'm okay with my over exuberant answer.

"Who's getting married?" Looking over Jessie's shoulder I spot the magazine she was looking at, which displays wedding dresses.

"Me silly," The warm
embrace we shared is now filled with cold air. She obviously doesn't notice my confusion and sits back down.

"To who?" I ask, trying to squeeze information out of her.

And as if by fate the boy who, lived next door to us, walked with us into the first days of every school year, and used to walkie-talkie us every night when we were supposed to be sleeping, walks through the door.

"Hey girls. What are we talking about?" Tony passes me and gives Jessie a long side hug.

"You're really starting to scare me, Tues," Jessie says. It's then I realize they're wearing matching Eastern Washington University sweatshirts.

"Tony is my fiancé," Tony kisses the top of her head as she tells me that my fiancé is marrying my dead sister. But she smiles anyway, unaware of the heart that's breaking inside my chest.

"No, he can't be… he's… not… yours… you aren't even supposed to be here," I'm babbling but can't control it. My heart is overpowering what my head is trying to say.

"I saved your life and this is how you repay me! By stealing my future husband? I can't believe you would do this to me!" I say what I need to say soon regretting it but it doesn't matter because I was talking too fast for either one to know what I was saying. They're just standing there, staring at me, looking dumbfounded.

I run to the door, yank it open, and walk outside, not waiting for anyone to react to my outburst. The late afternoon rain is already soaking my hair and dripping down my cheeks. Tears replace the rain on my face and the crying doesn't help my pounding headache. I sit on the sopping wet grass and think about what just happened.

When I went back in time, I rescued Jessie from drowning. I guess through the passage of time, Tony gets close to her instead of me. We didn't have the death to connect us anymore. I won't see his face light up when he sees me or won't feel how his hand fits perfectly in mine again. Or the way he hugs me like that little seven-year-old boy did to the sobbing little seven-year-old girl dressed in black. The way fireworks and lightning colored the inside of my eyelids as we kissed. Yet Tony and Jessie head to the opposing college and he proposes. I'm left as the third wheel while the other two wheels are getting hitched.

What do I do?

Elbows on knees and head in hands, I'm unsure.

Do I go back in time so I can have Tony but look as Jessie dies or watch my sister marry the love of my life while I'm from the outside looking in wearing a lavender bridesmaid dress?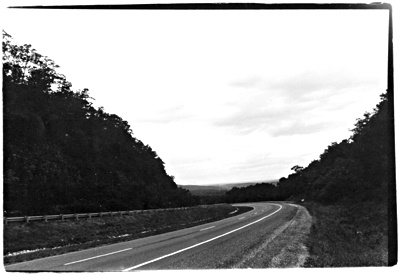 © Courtney R., Great Falls, VA