And they called it happily ever after
June 13, 2010
A sheer black blanket of night covered Gianna as she broke away from the bonds that held her ever so close to the edges of hell. The life she was leaving behind, if you could call it life, would toss her in her dreams no more. Looking behind herself, she thought she saw the menacing shadows of Lia and Imacolata, but they were just visions of the past, whisked away by the cool Sicilian wind. Of course, she was also abandoning her hearts only love, Vincentio. Gianna slowed to a walk. Her memory flooded her entire system, and she was forced to sit back, and watch the tragedy that was her life unfold before her.

The fire. It was Gianna's earliest memory. The winding vines of the old olive grove, blackening into a dust, and taking her childhood away forever. She remembered the way the fire blazed until it touched the moon, and seemed to be burning the very sky. She remembered the steam from the dewy grass, rising up until everything around her was gone. And then she was alone. As close to death as one could get, and utterly alone. Silent tears made trails down her arm. Someone came and traced them with his fingers. A young boy, carrying her in his strong arms. Afidabile, reliable. He visited her every night, and they talked. She on the second floor, through a window, he on the dusty ground below. He helped her through the tragedy that was her life, and she in turn, gave him her heart. He was the blazing sun for her, lightening every dark shadow that was a part of her. Her forgotten past, her unsure present, and her ever-changing future. Gianna Maria Regina Righello, princess of all of Italy was madly in love with Vincentio Povero, the scavenger of the streets.

Lia and Imacolata, Queens of distant countries who came to be mother figures of Gianna. They were the late Queen Regina Rigello's 'closest friends', and the bane of Gianna's life. A puppet on a string, that was all she was. Her life was hard. Vincentio, and her diary were the only things keeping her sane, and alive. Now she was having doubts. If Lia and Imacolata were to wake, and realize her absence, or perhaps find her, life as she knew it would be over. Gianna also knew that without her, the country would be subject to the wicked Queen's rule, and only their rule. Italy would be in ruins.
Her inner struggle was so immense, and so terrible, that her heart started to ache. Save myself, or help others? The question was too difficult. She knew the choice should have been easy, but it wasn't. How could she choose?


As her vision faded back to the real world, a tall, handsome man stood in front of her, his black hair shining in the milky moonlight. A smile played on his lips.

"Vincentio" she breathed. It was so sublime at that moment, that her heart's only desire should come. How did he know she was leaving? Gianna let the question linger, then fade, for Vincentio knew her far too well. In that moment, her decision was final

"I have left the safety of my life here to run with you. As soon as I found you were to leave this night, I knew we were meant to be together; that my life would be meaningless without your existence in it." Vincentio whispered as he took Gianna's hand. Her head swirled with emotions. Could this moment become any more perfect? Doubtful. She took his hand, and walked along the cobblestone street, feeling her way along with her bare toes. Vincentio felt the soft fabric of Gianna's nightgown flash across his skin from the wind. This got him thinking. The wind moved in a way that moved everything with it, but did not force. That is how the world should be. He thought to himself sadly. Then out loud, he said;

"Now, where are we going on this fine evening?" Gianna giggled at his passe' attitude towards giving up his old life. But that was Vincentio, always calm, always reliable. He kissed Gianna on the cheek, and as they walked away, their silhouettes faded into the dark of the night.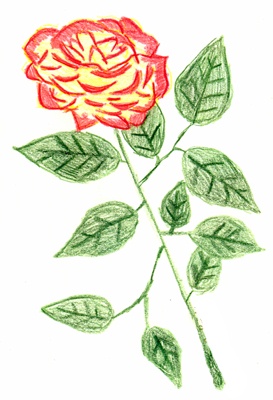 © Kelly Z., Niscayuna, NY