A Letter to No One
June 9, 2010
"You're mad," I declare.


"I am not mad," Jane denies. "Didn't you listen to the plan? You grab the iPod from his locker, put all the songs on yours, then give it back to him later, saying you found it."


"I'm not going to steal his iPod and then lie to him about it."


"But you have to," she insists. "I already have a boyfriend, but if I didn't, I'd do it myself. You can't pass on the gorgeous sex god."


"Jane, if you make me do this and he finds out what I did …"


"Stop worrying. Just do it."


Jane gives me a shove towards The Gorgeous Sex God's locker. She has calculated that he will be gone for another two minutes, when he usually appears to grab his math book.


I quickly open the locker. It's in his bag, just as Jane had said. What a loon.


I take the iPod and we run for the door. "You are bonkers, you know," I tell her.


"You can thank me later," she says. "When he's your boyfriend."


"Why would anyone date a thief?"


"But he won't know you're a thief. He'll think you're just a nice girl who returned it to him."


I roll my eyes. Anne is sitting under a tree and we join her.


"So you got it, then?" she asks.


I hold it up. "Yes, I did."


She grins. "Right. Let's hear the songs, then."


"Wait, stop!" Jane hisses, and pushes the iPod down. "Here comes his mate, Ronnie."


I stuff the iPod into my pocket. Ronnie says hey to us as he passes by, though I'm pretty sure he knows we're up to something.


The bell rings and we head back inside. There he is. The Gorgeous Sex God. Tyler.


He's searching around frantically in his locker. "Does anyone know where my iPod is?" he asks.


I glare at Jane. "You're going to make me puke up blood. I feel like rubbish."


"Stop overreacting," she says. "Once you return it to him tomorrow, you'll feel much better."

***

I follow Jane's plan. I avoid my mum and dad and annoying brother, Lucas, as I run up the stairs, hide in my room, and look through all the songs.


It wasn't the typical, mainstream pop you'd hear on most teenager's iPods. He listened to Snow Patrol, Radiohead, Coldplay, and the Stiff Dylans. I also found some recordings of his band Bleeding Violet. He plays guitar.


I've heard most of their songs from their gigs, but there is one recording that is much different from the others.


It's a song about a slow death. Not very painful, but inevitable, called A Letter to No One.

***

I can't face Tyler in school for most of the day, until Jane insists that I go talk to him.


He's putting his books in his bag, and she gives me another shove in that direction. She pushes me around a lot.


He looks surprised as I barely stop myself from running into the locker.


"You all right there, Violet?"


"Oh yeah. Sorry. Jane is … mad."


He laughs and glances back to Jane, who stands there, anticipating. "She is a little mad, isn't she?"


I shift my weight, and pull the iPod from my pocket. "I think this is yours," I say, and hold it out.


He looks down at my hand, gasps, and takes it. "I've been looking everywhere for this! Where did you find it?"


Jane forgot to tell me that part.


"Umm … it was on the ground. You must have dropped it."


"Wow. I guess I'm lucky you stumbled upon it, then. I'm not sure how many people would have returned it."


I can only smile.


"Thanks again."


"No problem."


He puts it in his bag, too, and I glance to Jane. She grins and gives me a thumbs up.


"Hey, Tyler?"


He slings the bag onto his shoulder and shuts his locker.


"Yeah?"


"I have to admit something," I begin.


The corridor is dwindling down to just a few people now.


"Maybe I can walk you home," he suggests. "And you can tell me on the way there."


"Okay, good plan."


Jane mouths "I told you" as The Gorgeous Sex God walks me home.

***

"Now, what is it you wanted to admit?" Tyler asks.


"You'll probably get pissed off at me," I warn.


He laughs. "Tell me, anyway."


"Well … I didn't just find your iPod. I stole it."


His smile disappears and he looks at me, confused. "Why?"


"Jane told me to," I say, wishing I had just kept my mouth shut. "I'm sorry. It was really stupid. Like I told you, she's mad. She thought it would make you like me or something. If I returned it to you, saying I found it."


He looks back to the sidewalk, and glances at me out of the corner of his eye, smiling now. "It's working."


I can't help but grin and watch my feet.


"That's not all, though," I continue. "I listened to some of your music."


"And what'd you think?"


"You have good taste," I say. "And I like your band. But there was one song that I listened to … it was different from all the others."


"Which one was that?"


"A Letter to No One."


He adjusts the strap on his bag. "Oh. You listened to that one?"


I nod.


"Did you like it?"


"It's sad. But I do like it."


He sighs. "I guess someone was bound to find it," he says. "It's about cancer."


I look up at him. We're getting close to my house now. I don't want the walk to end.


"Is it about someone you know?" I ask.


"Knew," he says. "My mum."


It takes me a moment to reply. I try to think something meaningful to say, but only come up with, "I'm sorry."


"Thanks. I am, too."


We're at my house now. We both stop and I lean on the fence.


"Listen, Tyler, I'm really sorry about stealing your iPod. That was really stupid. Looney, even --"


He holds up his hand.


"It's okay, really. I'm glad you did, actually. I got to talk to you."


"I'm always willing to talk."


He smiles. "Excellent. I'll be willing to listen."


I start to say goodbye when Tyler takes my hand and whispers in my ear, "I'll see you tomorrow, beautiful."


Thank God Jane's mad.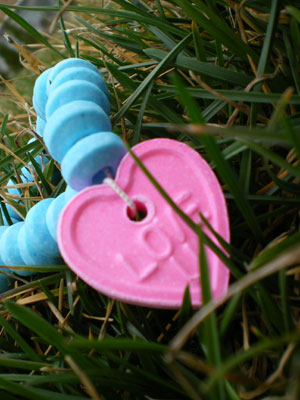 © Jennae P., Kennewick, WA