Under the Covers
June 9, 2010
Under the covers, and they are warm. Staring at the ceiling. It is quite attractive. No it is not. White. Receding nothingness. No color. No blush.

She had not blushed. She had paled.

No one comes. No one ever comes. She is not asking for a knight in shining armor. She does not want a cold, hard, shell. She wants soft, warm skin. A hand she can hold.

The covers are warm, but they cannot warm up ice.

She wants a hand to hold, to kiss, to touch, until her cold hand is just as warm as his. She wants a smile to meet, to breathe with and love, until the breaths melt together, sweet.

The course of love blocked by a broken heart. You would think she could step over the pieces. But she does not want that. It does not mean anything.

The problem. It has to mean something, to be significant. She does not want to be alone. She does not want to be a block of ice in the middle of sea, waiting to melt or turn iceberg. But neither wish granted.

What do the stars above feel? She cannot see past her white, rough ceiling. She wants to capture a star and hold on to him forever. Will he shine in total darkness? Will his rays pierce her heart—hold on, never let go. There is no reason to let go…if it is true.

Are stars as frozen as the darkness they live in? Or can they warm up her hands, her toes?

The problem. It has to mean something. It has to matter. That is why she had paled. She does not love him. She does not want him to label her, a block of ice. Her heart wants to beat again. It wants to come alive and take flight, join him in the sky. Cross the universe. Let go of everything but her star.

Squares of white ice. They are different sizes and do not fit together. Nothing fits together. Her heart does not fit together. Her hands do not fit together. She does not fit here. She belongs in…love.

A broken thread, a strand. They want to pull her out, but she is stuck because she refuses to step over the pieces. Until the star falls from the sky. She will catch it, caress it, hold on to it forever.

It has to matter. She has to care. Otherwise it is not worth anything. It does not matter.

Love can either be an endless, cold, dark sky or a blissful dew drop on a red, blooming rose. Darkness swallows and does not let go. Maybe the knight will come in, maybe he will not.

She does not want a cold, hard knight. She wants it to mean something.

How long can she wait? Or should she go on ahead, into the darkness? Descend alone or ascend with her star. Cross the universe. Hold on, never let go. In love.

Her soul matches the ceiling. White, uncolored. Not a blush, but a pale. Cracks everywhere. Is there another, sticking out just like her? A thread in the blanket that does not belong?

Maybe she can tie the ends together. Never let go. Never loosen the bond. Will her soul blush? Will the ceiling?

Close your eyes and darkness will swallow. It is up to you whether you decide to get up or not. Does she want to rise? Alone, unloved, waiting to emerge if the tendrils are loose enough. Or maybe under the covers forever.

Does it matter if she gets up or not? Or shall she succumb to the darkness, waiting around her ankles….

Never let him go. Hold him tightly, anxiously, scared…

No. Not scared. Not tarnished by cold, not worried, not frightened any longer. As long as they are together.

As long as it matters, means something, touches her heart and leaves fingerprints and a light to shine through.

Under the covers, alone, thinking. Will she ever be loved? But it is better to love than be loved. Just someone, and holding on tightly. Taken away, breathlessly in love. Unreciprocated, but enough. Because it means something.

And maybe, if she ties the knot tight enough, the other person will fall, too. But it is not the falling that matters. It is the catching.

Scared, but maybe someone will catch her when she falls out of bed, out of darkness. Not under the covers. No bed under her. Only their warm, shining arms. Hold her, never let go.

A lovely wish. But under the covers for now.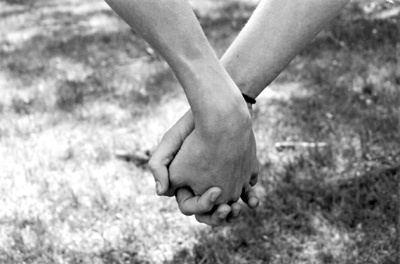 © Alexa T., Pompton Plains, NJ