Rings
May 11, 2010
You slid the ring onto my finger. The large candy diamond sparkled red. It tasted like cherry as we walked down the street on the sidewalk. We headed toward the neighborhood park, holding hands, while our mothers trailed behind us.

You slid the ring onto my finger. It was a little loose, but I loved the way the ruby sparkled, even in the night. We walked barefoot down the dirt road, tightly holding hands. Our feet automatically turned to head toward our spot by Crescent Pond. The crickets chirped while the weeds swayed in the cool summer night. Two moons gave us just enough light to find each other's faces- one in the sky, and one reflected in the dark, rippling water. Our foreheads touch as we reveled in the love that we had found.

You slid the ring onto my finger. The diamond sparkled, catching the light of the streetlamp. You were on one knee, with a look that looked as if I might say no. I got down on the sidewalk with you, not caring if I scraped my knees. I wrapped my arms around you and you squeezed back. I took your face in my hands, lightly tracing your lips with my finger before kissing them. No one had ever had a more perfect moment.

You slide the ring onto my finger. Smiles break across our faces, and the faces of our friends and family, as I say "I do" and you do, too. The sun warms the sand beneath our feet and waves crash as we head off into our happily ever after.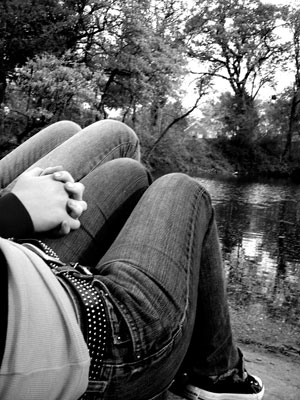 © Lauren R., Edmond, OK