What Once Was
May 5, 2010
"Elsie." I wispered into her ear before breaking out into giggles.

The look oh her face was soft and delicate, but serious. The girl meant business. She placed her hand on my cheeck whispering, "I Love you." After muttering those eight crucial letters, those three meaningful words, she kissed me.

It was a long sweet kiss, one that showed she truly meant what she had said. The kiss was a first for me, and it was perfect. I knew that I would never in all of my life forget it. It didn't demand anything, but the touch of my own pale pink lips. After it was over my cheeks rented a pink flush.

For those seconds I hadn't thought of anything but where I was at the very moment. Not one single thought came into my head about what people would think if they saw us. After all, we lived in a very conservative part of Arizona, and it wasn't everyday that you saw two pretty girls kissing in the park. Trouble didn't exist in this world of kisses and sweet embrace.

If only I could return to the sweet sweet summer days in the arms of Elsie. My Elsie.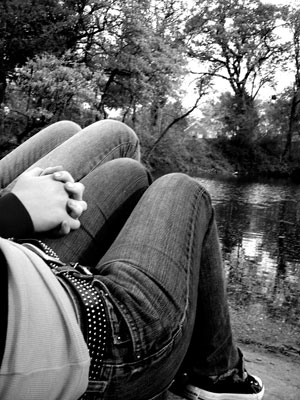 © Lauren R., Edmond, OK