Ransom
May 1, 2010
"Have you no shame at all, sir?"
"None, my lady." The bandit smirked, trotting his horse closer and closer to her naked body.
"You said you wanted to have a bath and I don't believe I'm interrupting." He said, stopping just at the threshold of the lake. Inside, the unclothed woman shivered in the cold waters and his substantially colder gaze. Although she tried her best to hide herself, her two hands could only cover so much.
"My clothes are at the bank, you horrid man!" She yelled furiously, "Do you honestly believe I'm going to run off into the forest without even a handkerchief to guard my body?"
"It is a possibility." His voice blatantly betrayed a good deal of pleasure. "However, if you feel such embarrassment, perhaps I should join you?"
"Don't you dare, you filthy mongrel." She whispered just enough to catch his ear.
"Oh, my lady, you hurt me with your unkind words." The bandit cried mockingly, further antagonizing her.
It's wasn't that he enjoyed provoking her, well maybe a little, but mainly he wanted her to see the ways of the commoners. Their vulnerability and subjection wasn't something she'd realize through the high walls of her castle. And if he derived some pleasure through it, that was purely coincidental.
"Exploiting a defenselessness woman, I guess it's true what the heralds say of you." The lady sneered, wanting to inflict some sort of damage on him too. But unfortunately, her comments had a more profound effect that she'd imagined. The bandit's roughen face twisted in annoyance. In a split second he was off the horse and his clothes wet to the knee in water.
She heard his feet splash in the water, saw his body coming closer. But she did not take a step back. Even in her vulnerability, she had to seem strong. An audacious deed, considering her captor's large stature.
The bandit moved closer and closer till he was waist deep in the water, mere inches away from her moist flesh, till she could feel his breath against her bowing face.
"And what is it that the heralds say about me?" He demanded coarsely.
It took all her strength to look him in the eye. "They say you are a looter, an animal and a murderer." There were goose bumps all over her body and it wasn't because of the cold.
"Do you believe that's true?"
"Why? Do they lie?"
The bandit's brought his lips a hair's distance away from hers.
"Not in the least."
As his lips touched her neck, she let out a passionate moan and was the only thing she could say before being swallowed in a whirlwind of ecstasy...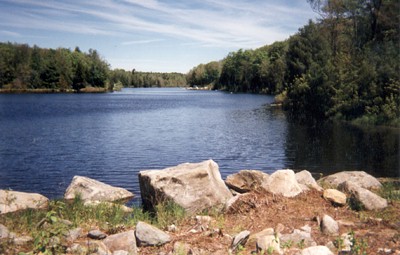 © Elizabeth A., Milford, CT