Trust me.
April 18, 2010
You are walking around, showing off your smile. You know I can't stand it. You catch my and and wink. My knees turn in to Jell-O. You walk over and say " now you know." Tears fill my eyes. You lean down and kiss me. 
" Now you know that I love you." I smile, wondering what this is all about. You notice my confused face and say " I love you, even though I only met you a year ago." I think back to my first day at St. Mary Catholic high school.

I was wearing the school uniform, red and black, plaid, knee leaghth skirt, a grey vest over a white polo, ankle high, white socks, and black flats. I was running late to my first class, biology. I could not find the room at all. I was wondering, hoping I would find it soon. 

Not looking where I was going I bumped in to a tall, buff, and very handsome guy. My stuff flew every where. Papers scattered, books open on the floor, and me on my back. He just stood there.  

" You should watch were you are going," he snapped. He looked up at me and soonly regrated what he had said. 

" I'm.... Um... I'm sorry'" I was unable to speak a word clearly. 

" It is ok." He smiled, oh it wad so beautiful. He was like a walking angle. " Need help picking up your stuff?"

"Yes, please. I don't even know where half of it went." I realized I was still on the ground. "Can you help me up, please?"

"No problem." He reached out his arm and I grabbed it so I can pick myself up.  He bent down and started to pick up my papers. Soon enough the bell rang and we were both late, but I didn't care. My saw my classes. 

"So, you are heading to biology?"

"Yes, but I don't know where the classroom is. Do you?"

Yeah I do. I have that class right now. I could show you if you would like." 

" I would love that." 

" Ok, follow me then." I just stood there, I had no idea if I should trust him or not. I mean, yeah he is really nice, cute and helpful, but could I trust him. 

" Come on, we are already late enough. You can trust me, I don't bite." He smiled again. I couldn't help it, so I followed.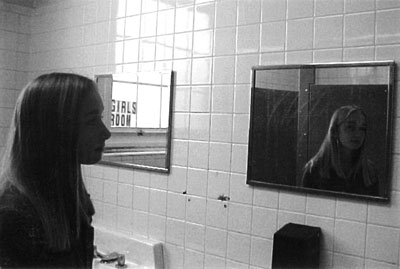 © Jill H., Pompton Plains, NJ