What Happened To Us?
April 11, 2010
I look out the window of my lonely room. It's raining. I slip into the skirt I bought because I hoped you would like it. I pulled off my sweatshirt to reveal that lacy tank top that hugs my curves. Slipping on my ballet flats I walk out into the drizzle of liquid sunshine, or so they call it.
I walk down the barren street lit only by the streetlights and the full moon. I think of all the tears I cried over you and all the dreams of you I've had. As these memories flood my mind my face, now wet with rain, is being covered with mascara running from both the rain and my own tears.
As I pass the elementary school I remember meeting your sister and befriending her. I also remember that first sleepover with her. Back then I thought of you as nothing more than her brother. As I got older I saw more. I saw a humorous, good-looking, talented guy who was fun to be around.
A new and strange feeling began to invade my body. I got butterflies every time I saw you. My heart skipped a beat and breathing became harder. I realized I had fallen for you and I had fallen hard.
I pass the high school. That brings back the memories that hurt. That was the place that caused me to tell you about my true feelings. It also signifies the ending of our weak friendship. I make my way up the cold snow dusted streets to the baseball field. I remember going there with your sister so she had someone to talk to. I couldn't help but watch as the teams competed, it didn't mean anything then but now I see how amazing those days were.
I walk farther down the road passing cars and trucks and happy couples strolling on Christmas Eve. Holding hands, giggling, and cuddling it's like a poison to me. I pass your house and with a light on in the living room I see a crowd of people laughing together. I turn and walk back to the baseball field. I sit alone on the stone cold bleachers and look up into the sky.
Most people would make a wish right about now. I do but normal people would have wished to take time back and not have told you what I did. I on the other hand only wish for you to be happy with who ever you want to be. I walk slowly back to my house and my room. I get fuzzy pajamas and take them into the bathroom. I strip my tear and rain stained clothes and take a long shower. I change into the pajamas and grab some ice cream.
I sit and watch movies and listen to music afraid to go to sleep. Your presence still haunts my dreams. You yell at me and tell me to stay away from you, your sister and your family. You slap me and tell me to get over it cause you hate my guts. You tell me I'm worthless and you don't want your sister hanging around a loser like me. Crying I run from the room but your voice follows. Then other nights all I can see is you and your guitar. Playing music and being truly happy.
Well you have your wish if you don't want me around then I'll leave but not without saying that you will always have a place in my heart. Whether or not you want to be there you always will be. You inspire me in so many ways that even I can't tell you. But you did help me realize one thing. I can't trust my heart because every time I do, it gets broken. So, how many times can a heart be broken before it can't heal anymore?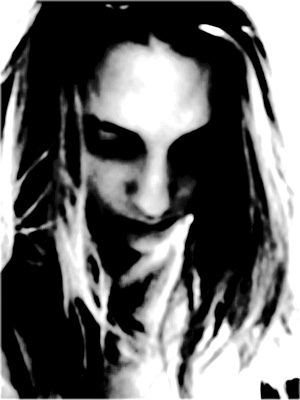 © Maria B., Boston, MA