Seeing Eli
April 1, 2010
"Stare at the sun," Eli told me one day after school.
We were lying in the pasture behind my house. The grass was so high no one could really see us, which made it our favorite place to go. It had been since we were in the fifth grade.
"Why? Do you want me to go blind?" I asked turning my head towards him grinning.
"Well…no. It's an experiment," he said.
I looked at him warily. He looked innocent enough. His curly blonde hair fell in his blue eyes. He would never know this, but I found myself looking at him a lot more lately. When had Eli Tanner, my best friend, gotten cute?

Sara looked up at the sun with her large blue eyes. The whole time I looked at her. The sun's rays shone on her skin and light blonde hair making her look like an angel. She was beautiful. My best friend was absolutely beautiful.
"Okay, now close your eyes for three seconds."
Her eyes closed.
"One…" I could feel my heart beating. "Two..."

"Three," we said together. I didn't even have time to open my eyes all the way.
Eli grabbed my hand and kissed me. It was gentle and sweet. And when he pulled away I felt like I could keep kissing him forever.
"Do you see green boxes everywhere?" he asked me still holding my hand.
"No. I see you."
I squeezed his hand and leaned in for another sweet, gentle kiss.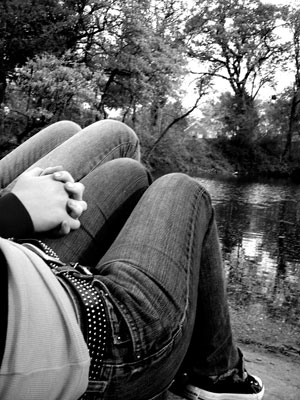 © Lauren R., Edmond, OK