Kisses and Keyboards
March 28, 2010
There is nothing more powerful than a kiss.

Or a broken keyboard.

The spacing is crucial, and no, I'm not talking about the keyboard this time. A space bar is a space bar is a space bar, right?

Anyway, the kiss. Yes, spacing, spacing and timing is crucial. How long does it last, and when?

A kiss is a kiss is a kiss, but not really.

Grant me one kiss. Rip my feet from the ground and my heart from the caves it's been living in for God knows how long. A princess deserves a kiss, right? And not a kiss from a frog or whatever metaphor you want to come up with. Not another prince either. Is that selfish?

I have everything I'd ever want.

Except this.
Improv me a kiss.
Make it random.
Make is passionate.
Make it right.
I want to remember this one.

Back to spacing, and timing. What formula is required for that kiss? Two times four plus lips divided by hands equals... what? My mind is distracted.

Nothing is present during a kiss. Nothing, save for his lips and mine. Time is gone, the air is gone, along with the people, the grass, the stars, the keyboard, everything.





The broken keyboard bothers me. It's time to go now, goodbye.

Glance to my left, he's still there, bent over, eyes glued to the screen.

Does he know I'm here, looking at him, imagining a kiss from him? I doubt it. He sighs loudly, longingly, and begins to gather his belongings. I race away, afraid that he caught me staring.

Every day he is there, and so am I. I live there, and he reappears in my life. The romantic inside of me would like to think there is a reason for that, for why every day, as I type on that broken keyboard, he is there.

I don't even know his name. Can he fix my keyboard? It is so very annoying. Come, come over here and fix it for my; I beckon him with my mind.

And later, much, much later, I leave for good, glancing behind me for one last look. He is staring at me, and I am startled. I keep my gaze steady, standing in the middle of the hallway,frozen.

He moves. I stay. He wraps his strong hand around my neck and pulls me close, breathing, "You're the girl with the broken keyboard."
I nod, confused beyond belief.
"Yes."
"Why do you keep using it, then?" his face is still inches from mine.
"I honestly don't know."

He smiles, then closes the gap between our bodies, sealing it with a kiss.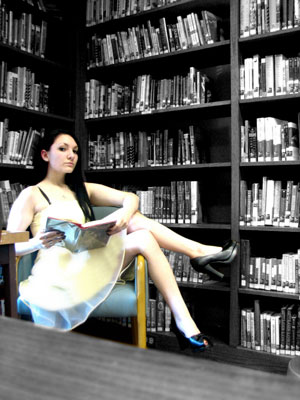 © Jessica F., Bradford, MA