In the Dark
March 28, 2010
We used to go to abandoned places. Places where you couldn't hear the cars or the roads. Places with no lights shining above us.

We would commit minor crimes in everything we did. We would explore ponds and fields from our childhoods, long forgotten by all except for toads and tree branches. We would go the very doorstep of hell, parked before rows of jagged teeth, only terrifying until we turned off the headlights and became wrapped up in each other.

We would creep into the parks far after dark. We would kiss sometimes, in the gardens, next to the fountain. But mostly we talked. About nothing in particular. It only ever built up to the moment where I could be enveloped in his arms again. Pressing my cold nose against his hard, warm body, under the stars that neither of us could name very well.

Did I love him? In those moments I did. In those moments where it was dark, where I could make myself believe that I belonged to him and that he wanted to have me belong to him. That I belonged between his long wiry arms and fast beating heart. How could I not want that? But when the light of day came, I never could. I never wanted to. Sometimes in my bed at night I would tell myself I did. But never when I saw his face in the daylight. Night was where we were happy.

Of course there was the house. The bed coverings are probably still tangled from our waltzes beneath the sheets. I remember the night he realized he had that key. It was to a farm house that no one had ever used. It seemed too good to be true. I suppose it was. It was a week before he came home, a week before we could have every opportunity we would ever want together.

God, I almost cried so many times that night. Looking up into his face, illuminated by exhilaration and moonlight. I would reach out and touch his beard, stroke it from temple to mouth. He later told me that he rarely thought in words, instead he just felt. That's why whenever I asked him what he was thinking he would reply with "nothing." Stupid me. I thought he was telling me he loved me with those smiles.

We began in the night. It should seem right that we would end in it then too.

Of course. I wanted to go to the farm. How could I not? I wanted to erase the past week, the fights, and turmoil, the teasing, and the tongue-tied silences. I wanted to forget all of it when I pressed my cheek into the hollow beside his neck. I loved how his skin smelled. Always his shoulders. To be pressed into him, to toy with temptations and groan in the agony of what I couldn't have, sounded like bliss. Sounded like the answer to all of life's problems at that moment. Instead we went to Hell's Gates. The moment he said he didn't have the key, I think I knew. He didn't lean in to kiss me. He didn't touch me. He hardly looked at me. Instead we sat there in front of the devil's maw, being glowered at through the glass as he told me we should end it. I didn't cry. Not at first. Not until I was driving home. In a night that seemed to swallow me in shame, I drove into the dark. Into my room. Into my bed, into dreams of dark blues and blacks, of heartache and sorrow. Into an abyss I had loved only days ago. Into misery.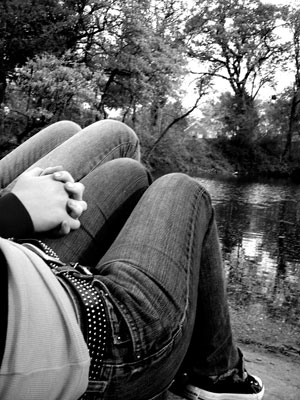 © Lauren R., Edmond, OK