Crayons
March 24, 2010
He was like the crayon in the box that nobody wanted and you were just fine with that thank you very much. It didn't matter that the rest were brightly colored, or shiny, or sharp and new. This one was perfect the way it was. Sure, it had crinkled paper, and was used short and quick to the nub, but it was your favourite one. The crayon you had been waiting for. The crayon that you used in all your pictures even though people had seen it a billion times, it never got old to you. You could spot it anywhere on a painting or even in the small drawing a child had drawn. He was your special one, the one you didn't want to share with anyone. The crayon that you thought everyone might be jealous of, but you didn't care. This crayon was yours, all yours and you weren't giving it up. Not even if it meant trading it for dunkaroos or a special cookie from a lunch bag. It was the crayon you broke in half after too much use, and cried yourself to sleep, not even the comfort of a teddy bear could cheer you up. But with a little bit of tape, and a happy smile, you pulled it together to use it again. The paper unravelling a bit more every use, but you didn't mind. You had the crayon now, who cared about the future?
Then that day. That day that the crayon finally ran out. The paper all gone and the color dimmed. You cried and cried, your daddy promising you that he'd buy another box, and your sister saying you were a baby for crying over such a trivial thing. They didn't understand. That crayon was special. It had been through so much with you, and now that it was gone, you were missing a part of yourself. Nothing could replace your crayon.
Nothing can replace him.
My special crayon.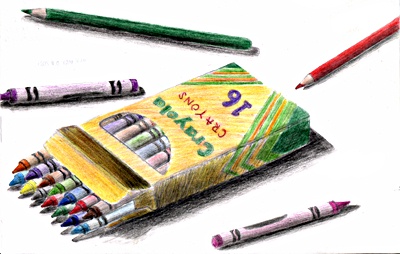 © Dana H., Wichita Falls, TX