do you believe
March 19, 2010
A ten year old boy falls in love with his imaginary friend. "A true friend," his therapist used to call him. But Ben felt more for shadow than anyone else knew. Ben's mom had put him into therapy when she found out her child had an imaginary friend. Ben was always the preschool outcast, the only one with red hair and a face painted with freckles. As far as we know it is normal for a boy at the age of four to have an imaginary friend, someone who he can call his own.
Ben sat in the back of the room one day just talking to his shadow. The teacher, Mrs. Fulooey, saw this behavior and added onto his imagination. "Oh, what a beautiful boy, Ben. What's his name?" Ben looked up at her. "Lucy," he said. "It's a girl?" Mrs. Fulooey added. Ben nodded his head. Mrs. Fulooey nodded in confusion. Normally, boys have imaginary friends that are boys, not girls. "Oh, I see and what is Lucy like?" Mrs. Fulooey asked. "Well," Ben began," she is a part time superhero at night and during the day, she works at the deli counter in the supermarket. Her special power is invisibility, but she told me only real superheroes can see her, so I must be a superhero, too." Mrs. Fulooey continued to nod her head, and when he was done talking she gave him a smile. "You must be a superhero. What special power do you have?" she asked. "I think that my power is that I have such a strong imagination, that when I imagine things they come to life." Mrs. Fulooey smiled, told him to have fun and walked away.
Ben never grew out of his wild imagination. In first grade he sat alone and talked to his imaginary friend. All of the kids made fun of him and he never actually had real friends. Ben's mom became worried because he would set an extra place at the dinner table for his "friend." If anyone sat there, he would cry because they were hurting his friend. How long could this go on for?
Ben's mom started to talk to Ben about his "friend." She told him that "Lucy" was not real. Ben went to his room crying. Why wouldn't anyone believe him? Just because Ben was six didn't mean no one should believe him. Instead of continuing to cry, he began to make Lucy's bed. Lucy was the only one who could stop his tears, as she cradled him in her arms, whispering, "It's okay. They don't need to believe." "But everyone makes fun of me," he muttered with sad eyes. "That's because they don't understand us," she comforted. Ben looked up at her and smiled and said, "You're right. No one does." She kissed him.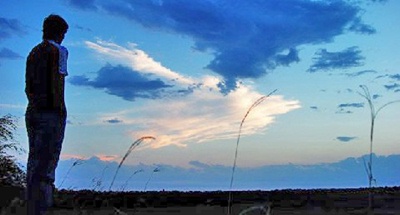 © Stefanie K., Katy, TX