Young Love
March 8, 2010
Apparently teenagers can't be in love. They are naïve adolescents who are blind to the true meaning, rendering them completely incapable of experiencing it. For teenagers, dating is to learn about relationships; what works, what doesn't.
If this is true, then I'm not sure what I'm in. I know it is absolutely enveloping, breathtaking even, often overwhelming, and always unbelievable. It is intangible in form, but completely visible between us; the look in his eyes, the placement of his hands, the affectionate smile. What can it be if it isn't love?
Lust, perhaps? It can't be lust. Our favorite moments are the ones we spend lying together. No phones ringing or music playing, the television off. We live in a parallel world complete with just the two of us. And we are waiting. That isn't to say that we don't undergo temptations. We want to be together in every way and yet we restrain our desires for the appropriate time.
Maybe it is rare, but I wouldn't go as far as to say that young love is fictional. Happily ever after may not be saved for the fairytales after all, but authentic for a lucky few. Commitment in adolescents is hard to come by, and even more difficult for them to maintain. Teenagers are interested in the carefree fun that goes hand in hand with being a minor, not long term obligation. Their relationships are more often then not based upon physical attraction and social status, not personality and compatibility; a relationship that may go the distance and last for their remainder of their lives. No, that's the last thing on their minds. They more likely consumed by this Friday's football game, college acceptance letters, and facebook statuses. Their relationships end in heartache but not heartbreak. They aren't ready to settle down and commit to one another which more often leads to cheating or unhealthy interaction. But out of the millions there has to be a few that defy the odds.

So maybe I was lucky enough to defy those odds. I met a guy that appeared entirely uninterested in a committed relationship, but proved to not only me, but everyone, that he was capable of acting as the quintessential boyfriend. He does it all. He opens doors for me. He pays for my meals. If circumstances allow, he joins my family and I for pizza every Friday night. He always holds my hand tight, even though his hands are cold. He wants to slow dance in the middle of the school parking lot. He puts me before his friends, and in return they may call him "whipped," but he doesn't care. I mean the world to him and him to me. He makes my eyes light up, my head spin, my heart speed. Every moment we spend together goes by too fast. I wish time would stop and we could stay in the presence of each other evermore.

Can it last forever? The protected life of a highschooler allows for the right relationship to thrive; spare time, immediate proximity, and limited responsibilities. Could it possibly survive the strain of college life, especially if we were to go to separate colleges. With only one year of dating under our belts, facing four years without each other would be an uphill battle. A battle we could overcome only with dedication and faithfulness.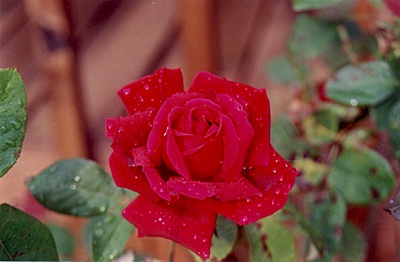 © Jami U., W. Hempstead, NY