Shadow Kiss
February 20, 2010
The beads on my bracelet slide down my arm, the bright silver charm catching the light and winking. Four years had passed, yet every time I saw that charm it made me feel as awful as I had that day four years ago. I sighed, biting my lip to hide the tears choking me. Instead I focused on remebering when he gave me this beautiful bracelet.
We were walking through New York's streets on a cold January afternoon. His arm was draped around me, his big body keeping my smaller, shorter one warm. Yet the warm arm and fake-fur trimmed coat couldn't stop the goosebumps that raised where his fingers touched me.
Then he stopped in front of 23rd Street Jewlers... the very place he had given me my first kiss. A warm blush flooded my cheeks.
"You're blushing, babe," He whispered, lovelight shining in those bright brown eyes. "I love you even more when you blush." Then he opened his hands, the weak light forcing its way through the snow setting the bracelet on fire, the beads dancing like gems, the silver gleaming.
Smiling, my cynical mind took me to the place I visited the most, yet was so afraid of.
It was a warm June afternoon. He had just kissed me goodbye and I was painting with the windows open and the radio blaring, dancing to Garbage. Then I heard a rap on my door. Sighing, I put down the brushes and turned off the radio, pulling open the door. Two police officers stood morosley in the hallway, their expressions heartwrenching.
"What... what happened?" Fear shot through me. A woman with badly dyed blonde hair looked me empathetically in the eyes.
"Your boyfriend... he was killed. It was a traffic accident, completely out of the blue. I'm so sorry, miss."
Then my mind thankfully went blank, tears slipping down my face as I looked at the girl in the frosty window, changed so much, yet every day I manage to find him.
The next day, I decided to walk to work. As if in New York that's an anomaly. Walking down Waverly Place, past the restaraunt that's in Seinfeld, a car came zooming into me, killing me instantly.
It hurt at first. It hurt like hell. But then, eventually, I awoke. Though I knew it wasn't me; the world seemed to be in slow motion, and my body lay mangled beneath me. Yet that gruesome sight could not hold my gaze, because my eyes found something much much better.
There he was, beconing to me, as he brushed my hair from my face and kissed me full on the mouth, the kiss of the shadows.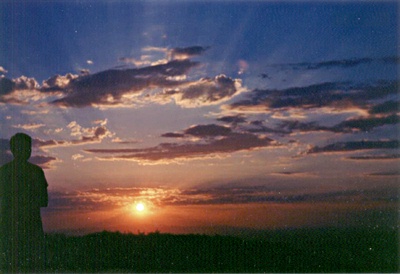 © Jovee B., Dededo, Guam