A New Kind of Perspective
February 25, 2010
The lonely girl sitting on the park bench, timidly eating her lunch, needed love and that's exactly what I was. And as Love, people had expectations of me, but in this world I was the closest thing to cupid's arrow. I was waiting for the right moment and the right time to take this girl in my grasp and blanket her in my warmth, understanding and happiness. I had been following her, observing her actions and her personality, desperately trying to find "the one" for her. This afternoon I had some luck and I found him. He was the tall, dark and handsome type but he was perfect for Madeleine. While I contemplated how they would meet, Madeleine got up and threw her trash away and began her walk back to the office. Then I had a brilliant idea. Every Saturday morning at exactly 8:30 a.m. Madeleine went to the Starbucks down the street from her apartment. So, all I would have to do is to make the two "bump" into each other. This idea is so perfect and so romantic! This is what I live for, I love seeing the smiles that light up their faces when they meet for the first time. Although not all couples stay together, I have to argue that I have nothing to do with the love after the initial meeting. But back to Madeleine. That night I made sure that she would get up and I knew that her Mr. Perfect would be at the Starbucks too.
Saturday, today was the day, and I was so excited! I watched to see what Madeleine was wearing, just so I knew it would be cute and not some ugly sweats or something, but she looked cute: she was wearing jeans; a white tank top with a gray sweater and metallic flats, her hair was gathered in a messy bun. I just kept jumping up and down I was so excited! I knew that this was going to work, knowing how cute she looked and how witty and charming Mr. Perfect was. And I'm sorry for the mushy stuff, but I can't help it I'm love. She grabbed her satchel and was out the door. My heart began to beat even faster and I could tell that Madeleine knew that this was no ordinary day. Madeleine arrived at the Starbuck's at precisely 8:30, and ordered her usual latte. And while she was waiting patiently for her latte, I saw that Mr. Perfect had walked in and was waiting in line. Now at this point I am practically bursting, I can't wait to see nature take its course!
So Maddie gets her latte and turns to leave when Mr. Perfect bumps into her, making Madeleine spill her coffee all over her shirt. The look on Madeleine's face was priceless, it was shocked and embarrassed. But then, she looked to see who the stranger was who bumped into her and that was the look Love loved. She smiled and he smiled and at that moment I knew that this love was going to be different than the others. Mr. Perfect offered her his sweatshirt and then she accepted his invitation to breakfast. I watched as the newly formed couple walked down the streets of New York talking and laughing and I was so proud of myself for forging together this innocent, but beautiful love. I was happy for them, but this would be the last time I would see them. It was a bittersweet moment. I knew that I had blown Madeleine's heart away, and this feeling made me go weak at the knees. Now it was my turn to leave them to their bliss and go look for the next dreamer who needed to be loved. Because love never sleeps and love is always looking for someone to grasp and hold onto until they find their way.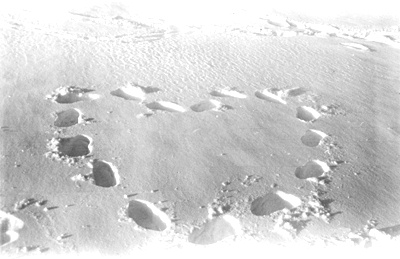 © Kim B., Marblehead, MA