My Eternity (Preface)
March 1, 2010
Mitchell pulled out a tiny box from his pocket. Holding it tightly in his palm, with my hand in the other, his emerald eyes met mine.
"Gabby, I want you to have this," Mitchell said opening the box to reveal a ring with a small diamond heart in the center of the silver band. I clasped my hand over my mouth.
"Mitchell, i-it's beautiful. I can't accept it, though. It must have cost a fortune," I sighed. Mitchell shook his head and took the ring from the box. As he slid it onto my finger the diamond caught the tiny light there was and shimmered.
"The price of it doesn't matter, just as long as you like it." I smiled with tears stinging in the corner of my eyes.
"t's a promise ring, you know," Mitchell continued.
"Really?" I asked, now holding his hand. He smiled and leaned in to my ear. He whispered,"I promise that no matter how far away we are, I'll always love you." I smiled as a tear slid down my cheek.
"I love you too..Forever."
Mitchell carressed my cheek softly. I held his hand there with my own, wishing that it would stay this way forever.
"I wish I didn't have to leave. I wish we could stay together." He pulled me into his arms and I rested my head on his chest. He kissed the top of my head and tightened his arms around me.
"Why can't you stay?" I asked quietly, fighting back tears.
"I wish I could. You mean absolutely everything to me. I don't know what I'm going to do without you," Mitchell sighed. I cried into his shirt softly as he held me close to him. His hand softly listed my chin up so we were looking into each other's eyes. We became closer until our lips connected. It felt as if fireworks were bursting with every move our lips made together. Our passion was raw and intense.
Our lips finally released with a smack. Both Mitchell and I were left gasping for breath. He pulled me tight to his chest again. We began to sway as I wrapped my arms around him.
"I will never let you fall. I'll stand up with you forever," Mitchell sand. Never before had his voice sounded so beautiful or pure.
His voice slowly faded into a soft hum. The moment was truly and utterly perfect. I knew though, the perfection that I adored, would soon come to an end, as I looked over and saw the sun slowly rising over the beach. I turned back and saw the sun slowly rising over the beach. I turned back to Mitchell only to see that he was watching the sun rise, too.
"I have to go," Mitchell sighed, a single tear rolling down his cheek.
"Please stay. Just a few minutes longer," I begged. He just held me tightly to him. I cried into his chest.
"I love you," he whispered.
My head was lifted off of Mitchell as he gave me one final kiss. My fingers trembled as they gently rested upon his cheek. He took my hand and held it for just a moment.
"Goodbye, Gabby," Mitchell said, bringing my hand to his lips. He turned to leave slowly, as I just stood and watched.
My chest had a sharp pain shooting through it, almost as if my heart had been ripped out of it. I could only stare as Mitchell became even more distant, eventually becoming only a shadow.
Within that very instant, the love of my life was gone.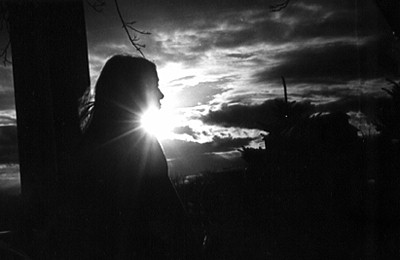 © Elizabeth G., Marblehead, MA