That's her... Part 1
March 1, 2010
It was the beginning of my freshman year, and I was just about as nervous as any other guy there. I closed the car door to my mom's black suburban, and drew in a deep breath. I walked onto the sidewalk rimming the front of the high school I had been waiting to attend since I was seven.
I saw my two closest friends, Zack and Topher. (Topher is short for Christopher, but he didn't want to be called Chris because there were 4 other guys in our grade with the same name.) "Hey guys." I said coolly, trying not to let my nervousness seep through. They turned their heads and greeted me back. I let out a deep sigh. "High school. Hmm…it's really weird that we are here already!" Zack laughed and replied, "Yeah but look at all the gorgeous girls!" Topher followed with a vigorous head nod and a laugh. Looking around, I realized they were right. There were tons of beautiful girls surrounding us. The bell rang. We all started to move into the building.
This high school was huge. There were so many other kids, all scattered about frantically trying to find their class rooms on time, and catching up with old friends. I looked down at my class schedule that was tightly gripped in my hand, and saw that my first period was Algebra, a subject I was not fond of at all. ROOM 3012. I had no idea what I was doing, much less where to go, so I spotted a teacher and asked for directions.
I finally got to my class room, and surprisingly I wasn't late. The class room was big, filled with other kids with nervous expressions slapped on their faces. I sat on the second row of desks next to one of my friends Jaden, who I've known since second grade. "Hey man, how's it going?" He said. "Crazy..." I replied, laughing. "Yeah yeah, I know what you mean, dude. I'm mad summer is over..." He said. A man who was obviously the teacher walked up to the front of the class room. "Settle down please...Hello, students. I'm Mr. Dudding, your Algebra teacher. Welcome to high school. Are you all nervous?" He said jokingly. The classroom nervously laughed. "Ahhh…I see! Well since the bell has already ringed, I'm going to go ahead and start class!" The sound of a door handle rattled, and the door slowly opened, making the entire student's attention draw to the distraction.
And that's when she walked in.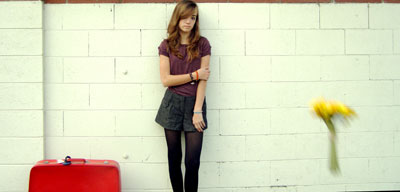 © Austin K., Studio City, CA