Love and Grief
February 17, 2010
Stepping onto the steps marked "Section IV: Disciples of God", Mark knew his grandmother was just around the corner, awaiting his visit. The cold air bit at him, sending an uncomfortable reminder that February was here to stay, at least for a week. Squeezing his fists together achingly, he arrived in a remote corner, far off in the vast fields of the cemetery. Coming to a halt, he looked down and read the inscription, not seeing it his last, more painful encounter. "Beloved Wife, Mother, Grandma." After swaying nervously for a minute or so, he spun around at the sounds of faint murmuring. Two bodies seemed to be mourning another lost life, tucked in a foreign corner, vaguely visible to the right. With the safety of silence, Mark looked blankly at the stone carving set low to the ground. How sad it felt to see his biggest fan, constantly in a grand race to accommodate her guests while teaching her 'brightest star' about disposable income- now morphed by fate into a deteriorating corpse, six feet beneath his feet, represented in stone. Almost mythical, he presumed. When the silence made the cold seem unbearable, Mark spoke in an effort to warm his chest. Rubbing his chest, he conjured enough warmth up to generate sound.
"Hey there, grandma…" he spoke sarcastically, as if the whole situation he had put himself was unreal. Not being too spiritual, Mark believed in himself and science. Talking to air appeared to be a waste of time, especially in the cold. He wasn't obligated to visit either. But nonetheless, he proceeded.
"You may recognize me," he sputtered, shaking with an unsettling batch of chills. "But that's okay. I probably wouldn't recognize you- us getting older and all… How are things in heaven? Word around here is that the pool up there is never below eighty-five degrees." He laughed, and then smiled to himself- knowing her, she probably would have cackled on cue. He continued. "Well since we haven't caught up in a while, I'll tell you a bit about myself…"
Searching through his mind, he tried to pinpoint the last time they had shared something- a tangible piece of evidence that showed she existed. "I didn't get to tell you- after all, you had been in chemo, but that Chem project last year worked out great." Extracting a typed paper marked boldly with a 'well done', he set it down gently on the stone. "That newspaper article you clipped helped out so much- oh and how could I forget? You know how I tried out for the Wizard of Oz last year? Well- I played the cowardly lion!" He chuckled, setting down a battered playbill. "Like mother like son, I guess."

Soon enough, a moment of stagnant silence filled the air, as Mark anxiously kicked his right foot into the ground. He debated over what to say next- should he even say anything next? Tim was waiting in the car, and – Tim. His lungs already so heavy, began to feel like they would snap off at any moment. Tim had been urging him to make this trip for the last month or so, and after relentless nagging he reluctantly agreed to go along with it. Just the other day, before work, Mark could remember so clearly how Tim put it: "You mean a lot to me, so she means a lot to me. I want to meet her, dead or alive." The way Tim's fingers so carefully traced the shell of his jaw; Mark couldn't help but melt in his presence. Every fiber of Tim's soul was adored by Mark, now resentful of fate and romance. After excavating what seemed to be a miniature grand canyon in the soil adjacent to his feet, he sighed shakily.

"I've met someone. He's a boy, and I'm not sure if you'd approve of me being… well as a…" He couldn't mutter it, not for the life of him. All of his barriers, his societal standards and insecurities were pushing away what he never could admit to himself before; the one true transgression that his psyche could not comprehend.

Suddenly, a honk disturbed his ears. After experiencing a slight coronary, he sighed at the end of the cemetery a person all too familiar, who attempted to mouth 'you okay' but failed profusely. Mark smiled devilishly, thinking he'll never give up on driving me insane. Signaling a thumbs up, Mark turned around and stared at his grandmother's grave. Her face seemed to shine through the cold exterior of the earth, signaling all would be okay. He breathed in heavily, and let the air effuse out of his mouth at its own pace, no longer constrained.
"Grandma, I'm gay. I have a wonderful boy in my life- Grandma, and I know you'd just love him as much as I do." He glanced over fondly at Tim, and began to rummage through his pockets until he found a picture of the two at the park- so picture perfect, amidst the geese and ducks. He set it down next to the playbill and gleamed. "He's like this indestructible force of steel, and love, kindness- well, I don't want to bore you. I think you get it." He stopped talking as to absorb her presence, now prominent in the air, filling it with warmth.
Not feeling the need to say anything thing next, he grabbed in one fowl swoop his array of items set on the grave. Walking away he could feel his lungs suddenly breathe more easily- the dread dissipated. But he turned back, almost halfway gone, and ran back to his grandmother's remote corner. Picking up a stone, and setting it down gently on the grave, he spoke quietly. "I miss you- everyday. Maybe I'll visit again sometime soon? I'd hope you'd like that."
He walked way, accompanied with an effervescent grin plastered onto his face.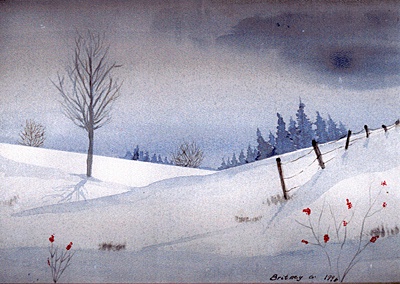 © Britney G., Green Bay, WI