The Rain's Requiem for Souls Lost, Sometimes Found
February 2, 2010
"So, I'm thinking, we should take a break, you know… see other people." Neal admitted, over an untouched cup of coffee.

Julia slowly, decidedly, put down her steaming tea and looked at him with dry blue eyes.

"So, why exactly?"

The response was short, too short for Neal to think of a proper answer. He scratched his index finger on the wooden table and looked out on the block outside the café. It had begun to rain, and pedestrians scurried like ants for shelter from the onrushing storm. He looked back at Julia; she had picked up her tea and was drinking again.

"You're a terrible girlfriend."

The rain was picking up now; it came along with a terrible wind that battered the glass of the window next to their booth.

"When did you start feeling this way?"

"About two months ago."

"Why is this the first time you're telling me?"

Neal looked down, then outside.

"Being with you just became a routine for me. I didn't really know why I was ever with you, I forgot what it meant to be in love."

"Then why bring it up now?"

"That's none of your business."

"Have you been cheating on me?"

"STOP INTERROGATING ME!"

Neal jumped out of his seat; his knuckles were white and pressed against the table. He looked around at the astonished crowd that was silent at first, then a few whispered comments — and felt his throat sink deep into his gut. Neal eased back into his seat and took a few slow breaths. He looked over at Julia, who was drinking her tea with maddening serenity, and scowled.

"It's not like it was easy… I gave you chances; I gave you so many chances. But, when I realized you would never change, I finally gave in. You wouldn't understand."

"Is it that hard to break it off with me? Did you have to lie on top of everything else?"

"Look," he started, "I never lied to you, and it was a hard decision. We used to have something, I know, but those days are gone, and I'm not willing to wait around and mope until they come back."

The rain intensified; it roared and wailed. The couple listened intently to the sound of the downpour over the sound of their beating hearts. The rain was alive, furious and wonderful, but it was outside the doors of the diner, outside of the scope of their confrontation. Julia took comfort in the white noise of the water against the window; she immersed herself in the senseless sounds. She wondered if the place would fall apart, and the rain would take everything – a return to oblivion. The void between them, two opposite energies, was beginning to break.

"Well, if you were expecting me to be miserable about this, you were wrong."

"Glad to hear it," countered Neal.

When they could hear nothing more the couple waited for the check, and Neal paid for both of them as a last testament to their longstanding relationship,

"I'll be going now… Have a good life," he said, as he left the diner.

"The same to you," she said, as he left.

Julia finished her tea, but it was cold by then. Neal was long gone; the rain had swallowed him whole. Julia got ready to go as well— maybe to call a friend. The blow she had diverted so cleverly came back and took its terrible toll. Maybe somewhere, somehow, Neal was crying too. Maybe sometime far from now, he would turn and think of Ju'. Then, suddenly, by God's decree, the clouds split and stopped the rain. The sun smiled in all his fiery glory, but all she could think of was pain.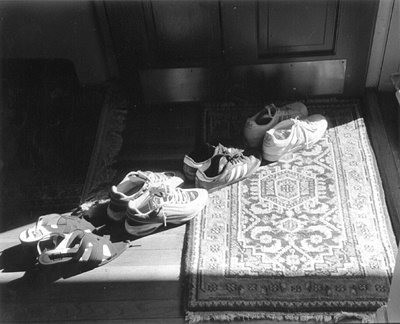 © Caite P., Marblehead, MA