Changing
January 31, 2010
Jamie stuck her head out of the moving car as it meandered along the country side. She felt the sun on her face and the sweet smell of dried grass. Birds flew by and Jamie closed her eyes. She pictured him. Brown Sandy hair and his sparkling green eyes popped up in her mind. She smiled, remembering his smile. He had been her first love and the only one who had ever made her feel like a princess. Then again he used to play princess with her too.

Jamie lowered her head back into her car and frowned. She hadn't seen him for years though. Maybe he cut off all his hair. Maybe he dresses like gothic or something. "Hopefully he didn't." Jamie thought a frown crossing her face. She popped a stick of gum into her mouth, stuck her iPods in her ears and laid her head back against the soft seat. She drifted to sleep staring at the dark ceiling of the Volvo and listening to the sweet sound of Beyonce.
****************************************************************************
Jamie woke up to her mother's shrill laughter. She rubbed her eyes and looked sleepily out of the window. Her parents were standing a few yards away laughing with an older couple who looked oddly familiar. The woman's green eyes and brown shimmering curls sparked something in Jamie. She gasped. His parents! Jack's parents! Jamie turned away from the window and towards the mirror. She brought her hand to her mouth in shock. She looked horrible. She had dark streaks of mascara under her eyes and her hair looked like a bear had slept in it. Pulling out her pink hair band, and letting her black hair flow down her back, she began rubbing the mascara away. Suddenly out of the corner of the eye she saw him. His short brown hair had grown longer. It reached just under his ear and the few curls framed his face. His green eyes were lit up brightly. They had dimmed a little over the years but they were still only too familiar to Jamie. She hastily finished wiping away the smeared lipstick and re-glossed her lips with her favorite gloss, Strawberry Banana Cream.
Jamie's best friend Melody was a Science geek. She had short blond hair, an A-cut. She wore pink 80's sunglasses, whether it was raining, snowing, or just in doors. They were her trademark. She also owned hundreds of pairs of shoes, literally. She had a whole closet dedicated to them. Although she obtained many from her mother who owned her own shoe store. She invented more things that Jamie could count with all her fingers and toes but they were all little things, like energy juices or fertilizer or lip gloss, like Strawberry Banana Cream. Sometimes Jamie felt intimated by her. She was so interesting and unique while Jamie thought of herself as boring and self conscious.
Jamie smacked her lips and smiled. With one last wink towards her reflection she hopped out of the car and walked calmly towards the group. They were still laughing and joking around. As Jamie approached she heard his oh so low voice laughing and talking along with her parents. When she reached them she put her arm around her mother's shoulder and smiled. "Remember me?" she asked still smiling mainly towards Jack. "How could I forget?" Ms. Tows said smiling and hugging Jamie, "You used to steal my perfume bottles and spray them on the dog. What did you call it again? Making even the smelly things in the world smell nice?" she laughed hardly and wiped her eyes with a hanky. "You two were so cute!" she said bursting into tears. "Mom!" Jack said smiling at his mother, "Everyone knows were still cute!" This only made Ms. Tows cry harder she hugged her husband and said something about drinks and lounging. She herded Jamie's parents into the Tows house along with her husband who brought up the rear. While Jamie and Jack stayed behind.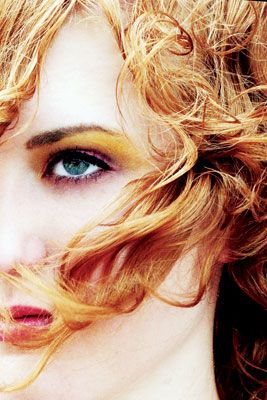 © Rebecca B., Marietta, GA