Found A Way
January 28, 2010
Seth Revgan's Point of View:

I stood motionless, just inches away from her, still staring, still waiting. For a sound, a sign, anything.

"Seth...I...oh, my, the thin short, strawberry blonde-haired girl whispered, the volume of her voice suggesting that she was probably speechless. Her dark, shadowed gray eyes were glittering from the colorful lights above. Her eyes could not be compared to even the most luminous stars in the night sky. However, we were not the only ones standing under the technicolor lights. Everyone I had ever known was standing right there in our school gym, in an extensive circle that seemed to go on and on, never to end, and I was at the center of that circle. My heartbeat quickened as the realization of it all became unbearably true. For the first time in my entire life I was the center of attention, and unlike most people I wasn't enjoying it. I turned to my left, trying to find a comforting face. There on the edge of the long line stood my sister. She wore a short dusky black silk dress and her deep ebony hair fell to her shoulders much as a smooth flawless waterfall would. Upon her face she wore the expression of worry. In her eyes I could see the tears, they seemed to reflect the color of her deep brown eyes. Her cheeks were stained with a watery trail of mascara. One of my sister's hand was wrapped tightly around that of my dearest friend. He stood not in fear, not in sorrow, but in complete awe. His long, shaggy blonde hair was piled over his glossy sky blue eyes; they were wide with astonishment. No matter how great his emotions about what had just happened, he tried to keep his positive attitude and support my sister. I quickly turned away, knowing that they were both disappointed in me. I looked once again into the girl's eyes. Not one sound was made. Not a giggle, not a scream, cough, whisper, or gasp. Complete and utter silence. I knew that all of them, every single person in that room was waiting for that girl's response. I also knew that I had crossed the line. Why had I done that? What was wrong with me? The longer I searched for answers to all these questions the more obvious it became that she was the only one. I thought it was over, that I would have to walk away and forget her, forget love. That was until she stepped forward. Everyone leaned in, and I nearly jumped out of my pants. As she took each step closer the click click of her heals grew louder and louder. The circle of people began to whisper, rumors, opinions, and thoughts until she stood so close to me that I could feel her cool breath on my throat. A wave of shuttering silence swept over the crowd. The soundless atmosphere resembled a graveyard, this sent a chill down my spin. It felt as if a shock of lightening had bolted through my body. She opened her mouth and spoke two words.

"I'm sorry'" she muttered slowly into my ear, before turning away. For a moment I though it was the last time. She began to walk away, she seemed to do so ever so slowly. The pain I felt lit a fire with in me. I grabbed her hand and pulled her back to my side. Pushing her closer to my shaking body as I slid my hand down her back. The whole audience gasped. But I wasn't about to stop. Three years of pain is what I had been through, and for once it was my turn to shine and fufill my single dream. I opened my mouth to say something, anything, but nothing came out. Not a single thing. I was speechless. I did the only thing I could do. I moved my hands to the sides of her soft face and I crashed my lips to hers. A million fireworks set off explosions of love and joy, heart and soul. All bursting into a frenzy of sparks. Her lips were sweet and gentle. Her smell filled my nostrils and abruptly took over all of my senses. It wasn't long before she had shifted her arms up to my chest, tracing each tender muscle. Her other hand moved up into my hair, brushing her spindly fingers through its thin, black, greasy strands. By this time the crowd was going wild, screaming, cheering, crying, they were insane. I hear people yelling, "You go man, and Seth, keep it coming." Others were yelling "No, you can't, she has a boyfriend and ditch it man." No matter what any of them said, I wasn't letting go. I never wanted this moment to end. But kit had to, for the wrong reason. A pale thin bonny hand reached for the girl's body. The slender hand then grasped the end of her shoulder and yanked it back. Pulling her completely out of my snug embrace. I opened my eyes after the feeling of her body wrapped in mine disappred and fade away. I looked up to see him. The one person who had ruined my life and destroyed any hope I had to be with my true love. Now he was taking her away from me, and for the final time. The guy moved his hand slowly down the girl's arm. Enjoying her soft silky skin before eventually grasping her shivering hand. He began to pull her away and out of the circle of chattering people. She looked back one last time. When I saw her eyes, she had a glint of sadness hidden in the corner where the dark gray color receded. She had her other hand on her heart and that was the last I ever saw of her. Once again everyone was speechless and frankly so was I. Then everything that had built up over those 3 years was let loose and I fell. Gravity pulled me to the hard wood floor and my thoughts submerged into an never ending abyss of misery. I was alone, even though I knew I was in the center of a circle made of faces. I could never have felt, in my entire life, so very alone..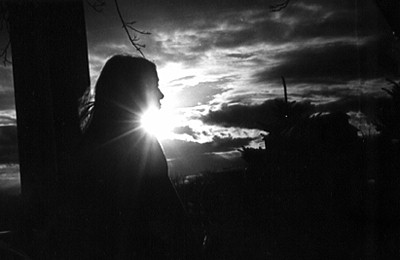 © Elizabeth G., Marblehead, MA