Just Escape
January 21, 2010
Day after day we sped from place to place, beating the clock that timed the race. Then one day, I broke the blue clock, I shattered it into sand. Then I collapsed on the shore of the calm dusk waves and slowly clasped your hand.
The roots of the trees heard our hearts begin to beat; the force shuddered to their indigo leaves and made them twirl and dance under our breeze. We were young and alive; we stormed the world with the cerulean fire raging in our eyes.
Entangled, we dove into the blueberry vineyard above, wrapped ourselves in the plush velvet sapphire that embraced us into one. The darkness of our dance mystified the sky as we flew from star to star, scrunching our eyes and wishing hard. We exploded into laughter as we caught a ride on a falling star; I felt my arms reach for safety around you as your azure eyes looked back and captivated my heart.
Our passion for adventure gives the moon its light and it smiled as our hands touched, captured amidst the blue. We've beaten time, brought truth to the dream of dancing on the light and falling into the night. We let go and dropped the fight against time to finally feel alive. Then slowly, slowly we glided back down the blue misty night, my eyes locked on yours. We both laughed a little at our dreams and wondered how we got so lucky to have this love as ours.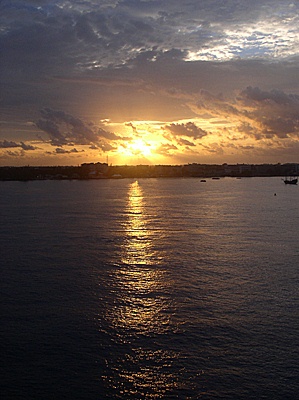 © Rebecca Y., Los Angeles, CA