An All New Love Song
January 21, 2010
Ace and Samantha had both graduated from Hawaii Pacific University with honors. Their, already planned on, short engagement was cut even shorter with a last minute decision to fly their families to the island for a very small wedding. Unfortunately with the cost of the flights and the fact that they had only had part time jobs throughout college the newlyweds did not have the money for a honeymoon.

Life started quickly for the two, right out of school Ace was contracted by a big money oil company as their head environmental consultant. Samantha, not wanting to be apart from husband, had Ace pull some strings for her to become his one and only budget consultant.
Ace and Sam spent the next three years traveling the coasts of the world approving or denying offshore oil derrick locations, staying in 5 star hotels on the company's budget, surfing, sailing, and making more money than they could possibly spend, but the two had no real place to call home.

Finally Sam decided she was through living as a drifter.
"Ace, do you really like all of this?"

"All of what? The money or having to unpack this damn suitcase?"

"No baby, ALL of it. We're never in any place very long no matter how much we like it. I was just thinking about something…"

"I'm Listening."

"We've got enough money now, we could go on our honeymoon."

"Samantha, we are in a condo in Boca, isn't this a dream honeymoon?"

"Well I was thinking maybe somewhere a little quieter."

"Like where?"

"Well I do know this nice little beach house in Galveston…."

"Ha-ha," Ace laughed warmly, "Galveston it is then."


Ace and Samantha went on their honeymoon but were slightly disappointed upon heir arrival for their third visit to the memorable beach house. This would be it's last rental. It was being put up for sale. Even though the for sale sign was a slight speed bump the rest of their honeymoon went without a hitch.

"It is too bad this is our last visit to this house." Samantha sighed.

"Why's that?" Ace replied.

"Really? Our first kiss, you proposed here, our honeymoon was here….This is probably my favorite place on earth!"

"No I meant why is it our last time here."

"Because… It's being sold? Don't you pay attention numb skull?" Sam said with a puzzled look on her face.

"I guess it's a good thing I bought it then isn't it?" Ace began to grin widely.

"Oh my God! You are such an impulse shopper! But we would never be here." Samantha began tearing up.

"Well why not? What reason would the for the Gulf region environmental consultant have for leaving the gulf coast?" His grin began to grow.

"Ace you quit your job?"

"No ma'am, I had myself demoted so I could have a REAL life, with a home, and a family. You know, the executives gave me that exact same look."

"Oh Ace I knew there was a reason I married you!"


Ace and Samantha spent the next month gathering their belongings from countries spanning six continents to occupy their new permanent home. Writing new words to an all new love song that they would sing together for eternity.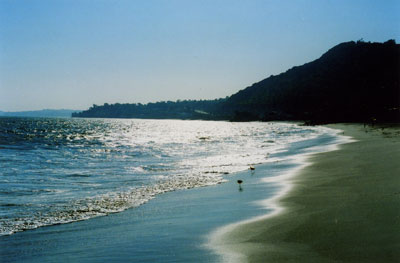 © Adam L., Washington, DC