College Love Song
January 21, 2010
Ace woke with a start. "Damn it, time to go already?" His alarm was going off. It was 8 o'clock and he had to get ready for class. He and his girlfriend Samantha had been attending college in Hawaii for four years. He rolled over to see if she had left for class or if she was still asleep. She had a dorm across the campus but a night rarely passed that her room mate didn't have a guy so, since Ace was alone in his dorm, she could usually be found in his room.


She was still laying there, as beautiful as ever. This summer would not only be the end of their college career but it would also mark the fourth year that they will be going out. By today's standards that was an eternity. All of their friends envied them, they had gone four years with no major fights, no break ups, and only a few minor squabbles. Some would consider it the perfect relationship.

"Babe it's time to get up. Class is in an hour."

"Huh?" Sam moaned as she rolled over, still half asleep.

"Class, you gotta get ready." Ace repeated.

"Oh yeah, thanks baby." Sam yawned as she got out of bed and went to take a shower while Ace packed his things for class.

"Ace thanks for letting me stay over, Michelle had another guy over. I think it was a foreign exchange student this time." Sam said putting on her jewelry.

"Not enough to get with every guy in the university but now she's goin after foreign tail!" Ace joked.

"Well it better not be EVERY guy, but pretty much yeah! Hun have you seen my ring? The one you got me for my birthday last year."

"No but I was wanting to talk to you about something."

"Go for it."

"This summer. I thought we would go on a trip, all I have to do is call and confirm."

"Ooh sounds mysterious."

"Well a trip to the beach."

"Ace we live on an island, we were at the beach last night."

"Not this beach. Where I asked you out. Same beach house and everything. I've already called and it's available."

"Now you're trying to be romantic."

"Well not that romantic, our parents will be there."

"Oh my gosh! That does sound like a good trip!"

"Yeah but this time I asked your parents."

"Oh wow!" Sam wrapped her arms around Ace and gave him a kiss on the cheek.

"I take it that means you want to go?"

"Of course I want to go, but you'll have to give me the details later, I have to get to class."


The day went by as usual with a few extra stops. Ace had hoped to get back to the dorm before Samantha but as he approached the door he saw that it was unlocked. She had gotten there before him.

"I called my mom she said you really did call. When are we leaving?"

"I called today and we have the week after school ends, the last week I think we'll put our stuff in storage except for what we're taking."

"Cool, so where you been? You usually get here before me."

"Eh, I went to Crush's, his computer was buggin out on him so I went to fix it."

"Aww my baby's so sweet!"

"Yeah you know it!"


The last weeks passed like every other, slow and boring, but finally the time came to pack up. In the last few weeks Samantha's room mate had an increasing number of "dates" so Sam had practically moved into Ace's dorm room.

"Hun, I found your ring!"

"Oh my God where was it?"

"I guess it had rolled under the dresser."

"Oh you're the greatest!"

"You have no idea."


And with that the couple packed up and headed for the airport. Bound for the place where they shared their first kiss.


They met their parents at the airport. They had found an airport only twenty miles from the beach house so all they had to do was take a short drive with just a stop for drinks on the way. The plane had arrived at 10 a.m. so the rest of the day was spent unpacking, catching up, and resting. Ace and Samantha from jet lag and their parents from the almost 200 mile drive.


That evening Ace took a walk on the beach. His clothes hadn't changed much from that day, the same cargo shorts, sleeveless shirts, barefoot. Physically he did look quite different though. His hair was shoulder length and shaggy, he was still dyeing it black, it was too much trouble to cut it all off and let it grow back out. He had gotten his ear pierced and had a tattoo of a cross on the underside of his wrist. But Sam, she hadn't really changed except gotten a little taller. As he was thinking this Samantha walked up behind him and put her arms around his shoulders.

"Looks familiar doesn't it?"


As he turned around he couldn't help but think how right she was, but he had a different point of view. Just like that day the cool salty breeze had her hair flowing back, the orange sunset gleaming in her beautiful eyes, and her smile. A smile that could melt the heart of the coldest man.

"Mhm. I guess you're right."

"Babe do you have something on your mind?"

"Actually," he turned to face her, "I was hoping to ask you something." He reached into his pocket and pulled out a small gold ring with three diamonds witch he placed on her left ring finger. "Will you marry me?"

"Oh my God yes!" she blushed deeper than she ever had before. "Where did you get this ring? It's gorgeous and it fits! How?"

"Well remember that day that you lost your ring? It didn't disappear, I took it to the jewelers along with some money I had saved besides for the trip. I never did go to Crush's. .."

"Oh my God it's so gorgeous! I love you so much!"



And with that in the same place where they shared their very first kiss, Ace and Samantha shared their first kiss as an engaged couple as the waves rolled over their feet.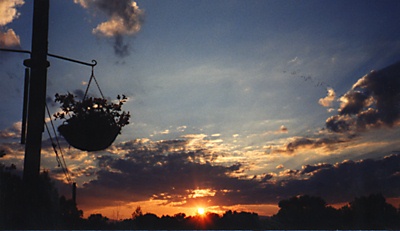 © Christy S., Germantown, NY