Anticipation
January 25, 2010
His lips were tenderly pressed against mine, his arms wrapped around my waist pulling me closer to his warm body. I could feel every emotion in the room, with every movement and touch. I could feel how much we loved one and other. I felt how much we wanted each other.



He started to move down my neck with his lips, but he abruptly stopped to look at me. To look deep into my eyes, with that every emotion became stronger. My thirst for our skin to touch, for his tender kisses, becoming uncontrollable.

He released his arms from my waist, moving to the other side of the room. The emotions in the room started to change, that is all emotions except for mine, he was almost feeling ashamed. I couldn't wrap my mind around why he was feeling this way. I was frozen I couldn't move. Once again the emotions were changing but he still felt ashamed, but now the more dominant, mine, I was feeling hurt. As if he didn't want me.

At this moment he noticed what I was feeling and walked back over to me. He put his right arm around my waist leading me over to the couch were he held me. He sat there holding me, kissing my forehead, whispering sweet things into my ear.

As if reading my mind he started were he had left off before, kissing my neck. But this time we were both getting tired, it didn't take long for me to fall asleep in his arms.

I woke to the bright light of the sun on my face, and him stroking my hair. He noticed I had woken. He pulled me closer to him, and we started to kiss with a passion I honestly had never seen before. We slowed to a stop. He could tell I wasn't awake enough to handle this.

We sat up, he picked up the remote that had been on the coffee table, pressing the power button at the to of it, in that second the flat screen TV six feet in front of us flickered on. It had been weeks since we had any contact to the outside world. The news didn't entertian us for long, it seemed to just drag on about the new serial killer that was on the loose and how the police had a new lead.

I looked over at him he turned to look back at me, I wanted to say something but I just didn't have any words for it. I leaned in to rest my head on his shoulder. He didn't say anything he just looked at me like I was all he could see, like I was all he wanted to see. He kissed me, the kiss was a lot like our kisses the night be for and earlier in the morning, passionate. But this is what I wanted to put into words, but I couldn't. I wanted to tell him how much I loved him. But it seemed like every thing was said with every touch and kiss.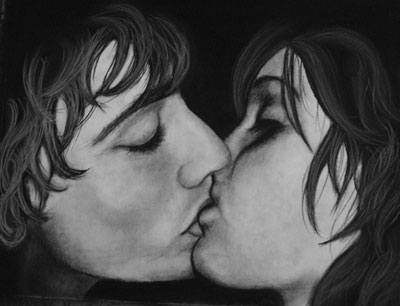 © Anna Y., St. Robert, MO