Dreams Chapter 1 Part 2
January 19, 2010
The next day at training she gave him no "good morning" or showed a smile on her face. His first thought was family problems or her ex-boyfriend, Ramon called her again. Yes, he knew Ramon wanted Rachel back. He was on the phone with her every night that Ramon made her cry. He needed to know what was wrong.
"Hey Rach, you didn't say hi this morning."
"Oh sorry, I have a lot on my mind."
"Okay want to come over?
"No its fine, I have to meet Ramon today."
"Rach, don't tell me your going to get back with him?"
"Who said I was?"
"I'm just saying, what's wrong?"
There were too many people around, including Ramon, for her to admit she was upset. Yes, she was upset that after they'd had sex he just left with no words. She pulled him to the side.
"Okay I'm upset that you left yesterday after we did it."
"I told you on the note I had to go home."
"Come on Emmitt, we've heard that lie before."
"I panicked," he confessed, "I didn't want to hear you say it was a mistake or deal with the outcome that this could change our friendship. I love you so much; I didn't want to put you through any pain."
She wouldn't believe it. This had no effect on their relationship. She thought he would be a different person around her but he was the same boy next door kind of guy.
He knew she'd understand with the smile that came in and the frown that faded away. He forgot the crowd was there and quickly planted a kiss upon her lips. There were whistles and clapping for many hoped this friendship would become something more. They returned back to their workouts.
He said he meet her at the cafe in half in hour but that was over an hour ago, yet she had to admit that Ramon was never on time. Yes, besides finally turning Emmitt and her relationship into something good, she had to meet Ramon.
He came in with a nice fit shirt that revealed the muscles he gained that summer, jeans that showed off his butt and faded shoes he could never get rid of. Yes, this was one of the many things guys that left her with tears and joy.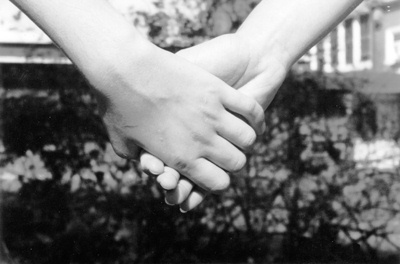 © Lauren G. Pompton Plains, NJ