Indication of a Grim Conversation
December 27, 2009
He stood with unexpected charm-well not completely unexpected. I knew very well of his charisma, essentially more than I should have. But he didn't know. Not of how he made every girl around him yearn for his tossed curls, broad shouldered wholly striking body; and certainly not that I was infatuated with the same attracted senses that every female produced around him.
It resembled madness to even make eye contact with him, not to mention the face reddening experiences when contact was made in crammed halls. Be that as it may, he had no idea of the torture he put me through when he became unavailable month after month.

Senior boys strode out to the practice field, none of them able to compare with Chance. Who angelically made his way to the front of the group, and commanded a circle of stretching. The eruption of giggles and sighs when he bent over to extend his calves was enough to be heard across the field of runners
"He's not that perfect." Gavin stood some distance away from the bunched up girls belligerent for a perfect view. The uncomfortable stance he situated himself in was enough to explain just how he felt about the situation.
I more or less glanced back for another perfect image, but decided against it. Gavin would grow edgy, or maybe invidious. Either way I'd rather not spend our time together with redundant bickering.
Grabbing my bag with his right, he forced my hand in his left. It was routine for us, nothing romantic or an initiative, just a way for him to care for me.

"Where are you going today?" Flipping through my books was his way of making our conversation look relaxed. That or he missed High school home work.
"My Dad's, it's his week again."
"Wasn't his turn last week?" placing my Pre Cal book back in my bag was a indication that the conversation was grim.
"Ya well…you know."

And he did, he knew exactly what was going on. Every detail of my thoughts, family, or school…he knew. Maybe it was somewhere between defending me in middle school as an older brother and shouldering my tears when my parents divorced that he figured me out entirely. Sometimes it was burdensome knowing that he knew my daily routine or my secrets, but I thank God he was there to pick me up every time something went wrong.

"Here," he handed me my bag upon reaching my house. "And this too," pressing a small box in my hand he stepped back. Excited that I had received a gift I snatched to open it without hesitation. Seizing it back was an easy task for him, "don't open it now."
"What exactly is this for?"
"I decided to take that transfer opportunity to Colorado, so here is a farewell present. Seriously don't open it until I'm gone though."
"Oh…" The moment became heartrending "I hope you have a nice trip."
He nodded.

We shared an uncomfortable hug, and as if he was walking out of my life he took the quickest route to his own home. Mutely I wished he and I had been in the same grade instead of a two year difference. We would have been able to spend more time together then.

The bracelet that I pulled out of the box wasn't anything luxurious; it was more of a representation of our past. Fourth grade year he helped me weave the string together, and lied that he had a sister afterwards and that explained how he knew how to weave bracelets. Later we had a good laugh when I found out he had a secret fondness for weaving things.
Attached to the bracelet was a note.

"Don't worry I'm not leaving for good. I'll definitely come back for you…promise.
Maybe when you grow up a little you might realize just how I feel about you. That holding your hand when I walk you home isn't just to keep you from running into the street by yourself.




I love you
-Gavin-
In that instant everything changed, more so than I had ever expected. Singular thoughts of sudden possibilities flooded my head, and yet I couldn't bring myself to pursue him.
My situation at school changed as well. I found myself not even looking in Chance's direction, and if we by some chance bumped into each other in the hall I wasn't too aware of it. When passing by the practice fields I truthfully didn't look in his direction with intention. One simple note had my High School crush ruined forever and my most significant person would fly over three states away to study with out me.

The solution now was to wait, and hope he would come home with out some one else on his mind that he took the liberty of walking home in Colorado.
I could call and see what he was doing, if he liked it there or by some chance he desperately wanted to come home. I'd welcome him with open arms, and thank God he was sent back to me. Except that I was told he'd wait for me to grow up, I want sure I had yet.
Walking home was never much fun any more; day by day I became disenchanted with his absence. I figured ultimately it would get better. Tossing my bag on the vacant seat next to me I sighed.
"You seem frustrated, what's wrong?"
Startled by the presence of some one I scooted over while studying him. The body that I had once worshipped stood facing me now. Some how it didn't beguile me as much as it used to. "Aren't you suppose to be at practice," the words didn't come out with as much interest as they ought to have. "Na, we had today off."
After a few moments of silence he spoke, "What exactly is wrong?"
The conversation started slow, but I ultimately found myself enjoying his companionship. He reassured me in a way that substituted for Gavin.

"He'll be back in a few years, and I'll wait for him."
"I see," he stood and walked away the same way Gavin had, except Chance retuned to my side the next day. He was my encouragement when all I thought about regarded Gavin. I frequently thought of Gavin, but Chance helped. He became the unexpected turn in my life, which kept me hopeful. He was my best friend that I'd rely on, and be obliged to. I loved him like I loved Gavin, except with a little less care.
~3 Years after Graduation~
"He'll be here," I told Chance who started to doubt me. "I don't see him, and my feet hurt."
Disappointment began to stumble upon my heart, "just wait a little longer."
Chance spotted a small lemonade stand across the street, and silently headed that way for two cups.
Returning to her side and consoling her was what he proposed to do when the guy didn't show up. Turning back to her and being taken aback upon seeing her in the arms of some one else practically killed him. He had planned everything around this Gavin guy not showing up, and even fell in love for the initial time in his life. As if he didn't know what to do with himself he walked away in surplus misery.

He breathed out some what exaggerating the pain, until he was interrupted. "A-are you alright?"
A girl stood over him in worry; besides the anxious expression she wore on his behalf her facade was that of an angel. She would become the person he would rely on mainly, now that his heart was broken. Subsequently later on he would recognize her feelings like his own, and then perhaps things would improved from there.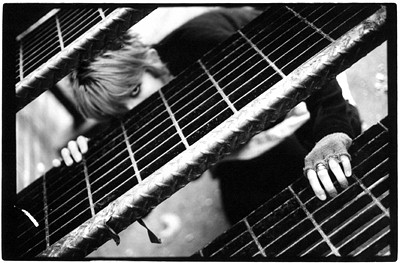 © Patrick B., Stony Brook, NY