He Doesn't Even Notice Me, Or Does He? Part 2
December 25, 2009
He was true to his word. That Friday he called asking when I wanted him to pick me up.
"Any time," I said. I could barely breathe. My pulse raced and I started to feel queasy.
Just calm down, I told myself.
I did little things around the house just to keep my mind off him. It started to work, until I heard a car door close.
A few seconds later, there was a knock at my door. Now my head was spinning. I collected myself and extended my shaking hand toward the front door knob.
I held my breath.
When the door swung open, I smiled hesitantly. He smiled back. I couldn't speak so I gestured for him to come in. He did and we stood akwardly by the door.
"Let me go get my purse. I'll be right down," I said in one breath.
"'Kay."
I ran up the stairs to my room to grab my purse, took my stash of money from my piggy bank since I didn't know where we were going, and walked back downstairs to him.
As we were walking to his car I asked, "So, where are we going?"
He answered, "You'll see."
All through the car ride doubts floated in my mind. What was I thinking? This was the kid who hung out with the druggies and trouble makers. I thought of all the places he might take me. A club? A crazy party?
Fear was all I could feel now. And stupidity.

I kept a look out for any houses that looked like a party was being held at, but we weren't near any houses. There were trees, and pretty soon restaurants came into view.
But we didn't stop at any of them, which made me nervous again.
I stopped paying attention to our surroundings and instead just stared at the scenery, not really seeing anything.
I only looked up when the car's engine turned off. I couldn't tell where we were and he hadn't said anything the whole ride.
"Here we are," he finally said.
Here we are where? I thought to myself.
He walked around the car to the trunk and took out a box. My eyes widened.
"Follow me," he said.
Don't follow him, don't follow him, ran through my head over and over again. But, of course, I followed him.
The texture under my feet changed and I looked down to see sand. I was curious so i walked faster, catching up with him.
I gasped when I saw the beautiful beach.
The sun cast a gorgeous light on the water. I was speechless. I almosr ran into him when he stopped. He knelt down and opened the box he had carried with him. It was filled with food!
"What--?"
"I thought we could have a picnic on the beach." Tears formed in my eyes, but I held them back and smiled.
He set up a blanket and motioned for me to sit, while he got everything ready.
We ate the food, talked about ourselves, and flirted....alot.
At the end of the night, he took my hand in his, curling his fingers through mine.
I turned my head to look at him and that's when he kissed me. It was the best kiss of my life. I swear I could hear something, but it was probably just the crash of water against rocks. Still, I like to think that maybe, just maybe, it was the fireworks going off, just like in the fairy tales.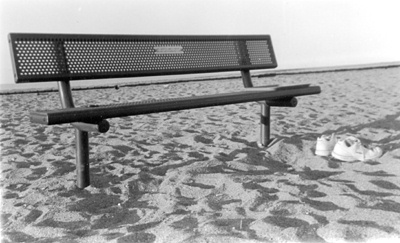 © Jenna H., Marblehead, MA