Did It Exist Or Was It Just A Dream?
January 13, 2010
Love...
Does it really exist?
Do people really feel that spark inside them that makes them feel more complete than they ever will?
I'm standing here, on my porch, watching a summer storm, wondering this. Is what I felt with him really love?
I hurt somewhere deep inside, that much is true. I could never get hiim off my mind, could never seem to really let go. I loved spending time wiht him, loved the feeling of his arms around me, but...
Was it really love?
Some say it was, some say it wasn't. Cynics and romantics both agree that it was tragic. A young life, cut so short all because of a bullet.
All because of a war that never had to exist in the first place.
All because of me.
He left for the army when we fought, when I called him a coward for. At the time I had a reason, but now, I don't even remember what it was. At the time I thought I loved him.
I didn't understand why he would leave me standing here like this.
Was it really love? I ask myself, thinking of the funeral.
I went wearing my wedding dress.
All I could think as I looked at his face once last time, was...
Why'd you leave me?
Why'd you go, when we could have...
We could have had forever.
But now you're gone, I think bitterly, staring out into the distance.
Was it love?
No, I tell myself.
Love doesn't exist.
But somewhere deep inside I know I am lying to myself. And I know this. I'm lying to myself to numb the hurt and pain I feel inside.
Once again.
I look down at his picture beside me, sitting under one of my many bottles of whiskey.
The whiskey...
God, I tried to hide the smell.
I tried to pretend I wasn't drinking my pain away. But I was. The drops that fell from the flask were like the tears that fell from my eyes.
Pain, falling one by one.
Is that horrible of me?
To put this pain into words, words that have always seemed inconprehendable to me?
Is that wrong?
Or is it just sad?
It could be both, but now, I'm too drunk to know.
His picture is still there though, looking up at me, his once happy eyes, screaming his blame at me.
My fault, my fault, my fault...
Was it really my fault?
Or was it... just a...
Dream?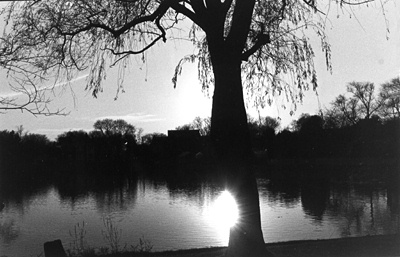 © Chuck K., Marblehead, MA